UPDATE: Investigation Finds Wildfire in Frisco Was Not Naturally Caused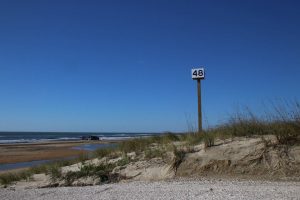 On the afternoon of Friday, March 22, Cape Hatteras National Seashore Rangers with support from the Buxton and Frisco Volunteer Fire Departments extinguished a wildfire located north of ORV ramp 48 between Inside Road and the oceanfront in Frisco. The National park Service (NPS) states that if visitors had not reported the wildfire after observing it, there is a chance that it could have spread to the village of Frisco and caused harm to life and damage to property.
Immediately after the 5.18-acre fire was extinguished, an investigation into the cause of the fire started. The local community and visitors were also asked to contact the National Park Service's Investigative Services Branch (ISB) or the Dare County Community Crime Line if they had information that could help investigators determine what happened. The tip lines subsequently received multiple observations from the public.
Preliminary results from the fire investigation indicate that the fire was not caused naturally and investigators have ruled out the possibility that the fire was caused by a discarded cigarette.
According to anonymous tips, just before the fire was observed, a sport utility vehicle was seen traveling north on Inside Road.
Please contact ISB or the Dare County Community Crime Line if you have information that could help investigators, or if you may have observed unusual activity in this area.
National Park Service ISB Tip Line
CALL or TEXT the ISB Tip Line at 888-653-0009
ONLINE at www.nps.gov/isb and click "Submit a Tip"
Dare County Community Crime Line
Visit the Crime Line website at darecommunitycrimeline.org
Call 252-473-3111 or 800-745-2746