Virtual Celebration of the Cape Hatteras Lighthouse begins at 4:45 p.m. on Wednesday, Dec. 16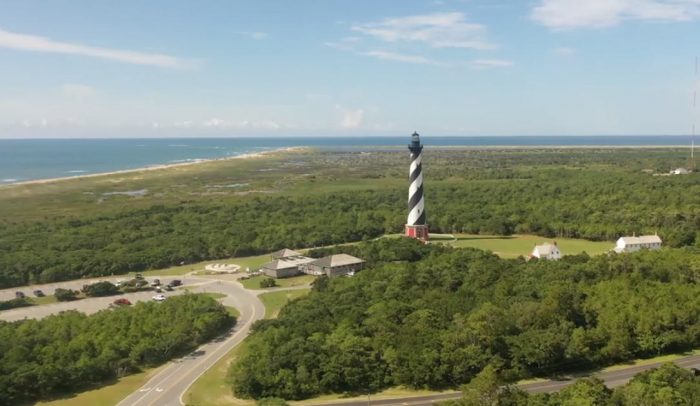 At 4:45 p.m. on Wednesday, December 16, the Cape Hatteras National Seashore, (in partnership with the Outer Banks Lighthouse Society and Outer Banks Forever), will host a virtual celebration of the 150th anniversary of the Cape Hatteras Lighthouse on the Seashore's Facebook page and Dare County's CURRENTtv.
The program will begin with a video of the historic light's illumination, followed by a video presentation featuring local community members, historians, park rangers, and partners from all around the country.
"The lighthouse has seen and experienced quite a bit over the last 150 years, including hosting millions of visitors," stated the Cape Hatteras National Seashore in a social media update. "While we await our celebration later today, help us with this celebration by sharing your photos and stories of your time here at the Cape Hatteras Lighthouse."
In addition to the December 16 celebration, there will be other lighthouse-related events and activities for the public to enjoy throughout the month.
A temporary exhibit, "150 Years of Light, a Photographic Tribute," has been set up at the lighthouse's Visitors Center and bookstore, paying tribute to the iconic landmark's long history through a series of historic photographs.
The Dare County Arts Council is also hosting a virtual art exhibit for folks who want to explore the visual history of the lighthouse, but who are unable to make an in-person visit to the Buxton exhibit. The "Cape Hatteras Lighthouse Virtual Art Show" showcases a variety of artworks featuring the lighthouse, and is accessible online at www.darearts.org/hatteras150.
For more information on the 150th anniversary celebration, including additional details on the December 16 festivities, see https://islandfreepress.org/outer-banks-driving-on-the-beach/details-announced-for-the-150th-anniversary-of-the-cape-hatteras-lighthouse-celebration/.