Visitors Can Watch a Live Sea Turtle Nest Excavation via National Seashore Hotline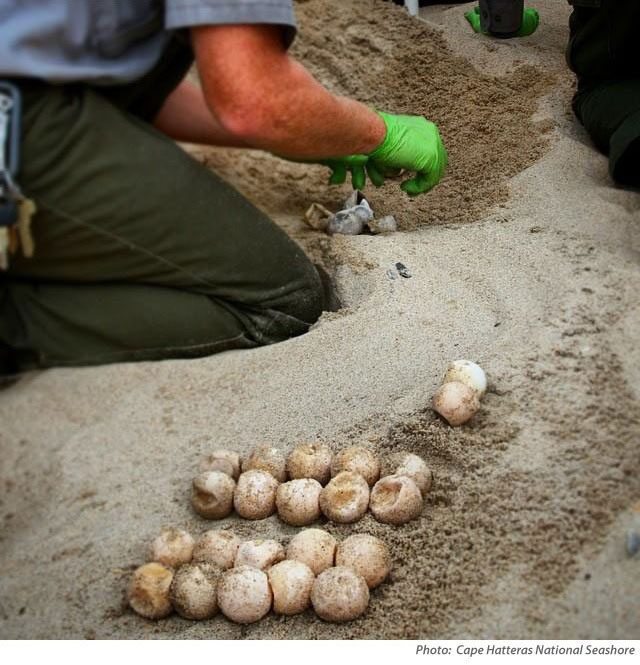 Cape Hatteras National Seashore (CHNS) is once again offering park visitors an opportunity to observe excavations of recently hatched sea turtle nests during the months of August and September. Information on upcoming excavations can be obtained through the annual program's hotline at (252) 475-9629, which outlines any upcoming excavation events along Hatteras and Ocracoke islands.
An "excavation" is the process completed by biologists to document what remains in the nest after a natural hatch has occurred.
Each spring and summer, female sea turtles make a brief trip to the shores of Cape Hatteras National Seashore to nest. Approximately two months later, under the cover of darkness, up to 150 hatchlings emerge from the deep sandy nests to make their mad dash to Atlantic Ocean.
2019 has been a record-breaking year for sea turtle nesting activity, with 329 total nests recorded as of July 16. The mid-summer tally surpasses the previous records of 289 nests in 2015, and 325 nests in 2016.
During an excavation, the biologists will dig up the nest, count empty eggshells, and collect unhatched eggs for research. Live and dead hatchlings are occasionally found during these excavations. While the biologists perform their examination of the nest, a park ranger will present a program on sea turtles and share what the biologists have found at the nest site.
Nest excavations are an important way for the National Park Service to collect valuable data on sea turtle hatch and emergence success rates. This data is added to the turtle nesting databases for the seashore and the State of North Carolina.
Persons interested in finding out when and where an excavation will take place can call the excavation program hotline at (252) 475-9629. The first excavations of the season will likely take place in early August.
Due to the unpredictability of sea turtle hatchings, notice of these excavations programs will usually occur only one day in advance, so check the hotline often.