Work Begins on Portsmouth Island Facilities Damaged by Dorian; 2020 Homecoming Set for April 25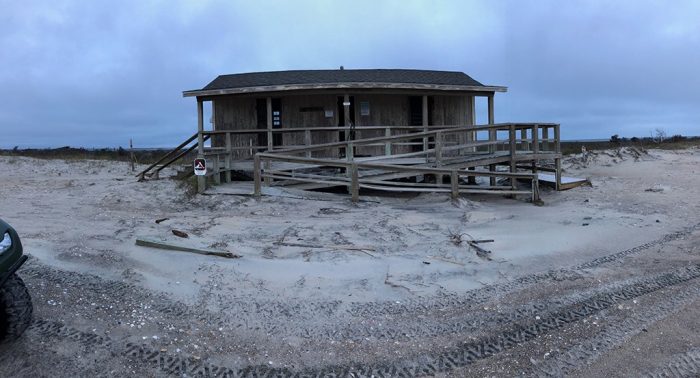 Over the next four weeks, weather permitting, the National Park Service (NPS) and Cape Lookout Mobile Sportsfishermen (CLMS) fishing club will conduct a joint project to restore and expand the bathhouse, rebuild the RV dump station, and work on the back road of Portsmouth Island in the Long Point Cabin area, per a recent update from the Cape Lookout National Seashore.
The Cape Lookout National Seashore also noted that the island, which is located just south of Ocracoke Island, will open for beach camping, fishing, and shelling in the coming weeks.
The Portsmouth Island Homecoming 2020 is scheduled for April 25, with a theme of "Portsmouth Rises" as a nod to Hurricane Dorian. Special t-shirts will be offered for this homecoming and will be available on a first-come, first-serve basis. For more information on this year's homecoming, (which occurs every two years in Portsmouth Village), visit http://friendsofportsmouthisland.org.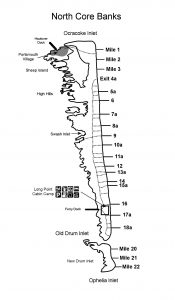 The island is currently driveable at the southern end of the island from Old Drum Inlet at mile 19 until mile 6.7, where the inlet has become passable at mid-low to low tides. Visitors are advised to watch for the rising tides, as the area may become impassable with higher water levels. The next inlet on the northern end of the island is at mile 3, an area known as "the Evergreens," which is not passable at this time.
The Long Point Cabins, which are located at the southern end of the island, have been closed since Hurricane Dorian and currently remain closed for the 2020 season.
Hurricane Dorian, which made landfall on September 6, cut a total of 54 new inlets through the North Core Banks of the Cape Lookout National Seashore. The water treatment system for the Long Point Cabins area was also destroyed during Dorian, and the cabins and bathhouse were heavily damaged.
Morris Marina in Atlantic, N.C., will start providing ferry transportation for 4WD vehicles beginning on April 3.
Portsmouth Island ATVs noted in an online update that they are not accepting bookings at this time, but advises that folks can contact them in April for new bookings or updates, or check their Facebook page at https://www.facebook.com/groups/81993838915/ for updates.