You can send your news of special events, workshops, meetings, etc. on Hatteras and Ocracoke islands to donna@islandfreepress.org.  Please send as a document or plain text in press release format.   Please do not send only PDFs of posters or other announcements.  You can send these for illustration, but we need text. We must receive your announcement at least one week before the event.

Hatteras Hillbilly Run and Flip Flop Trot will be held virtually in April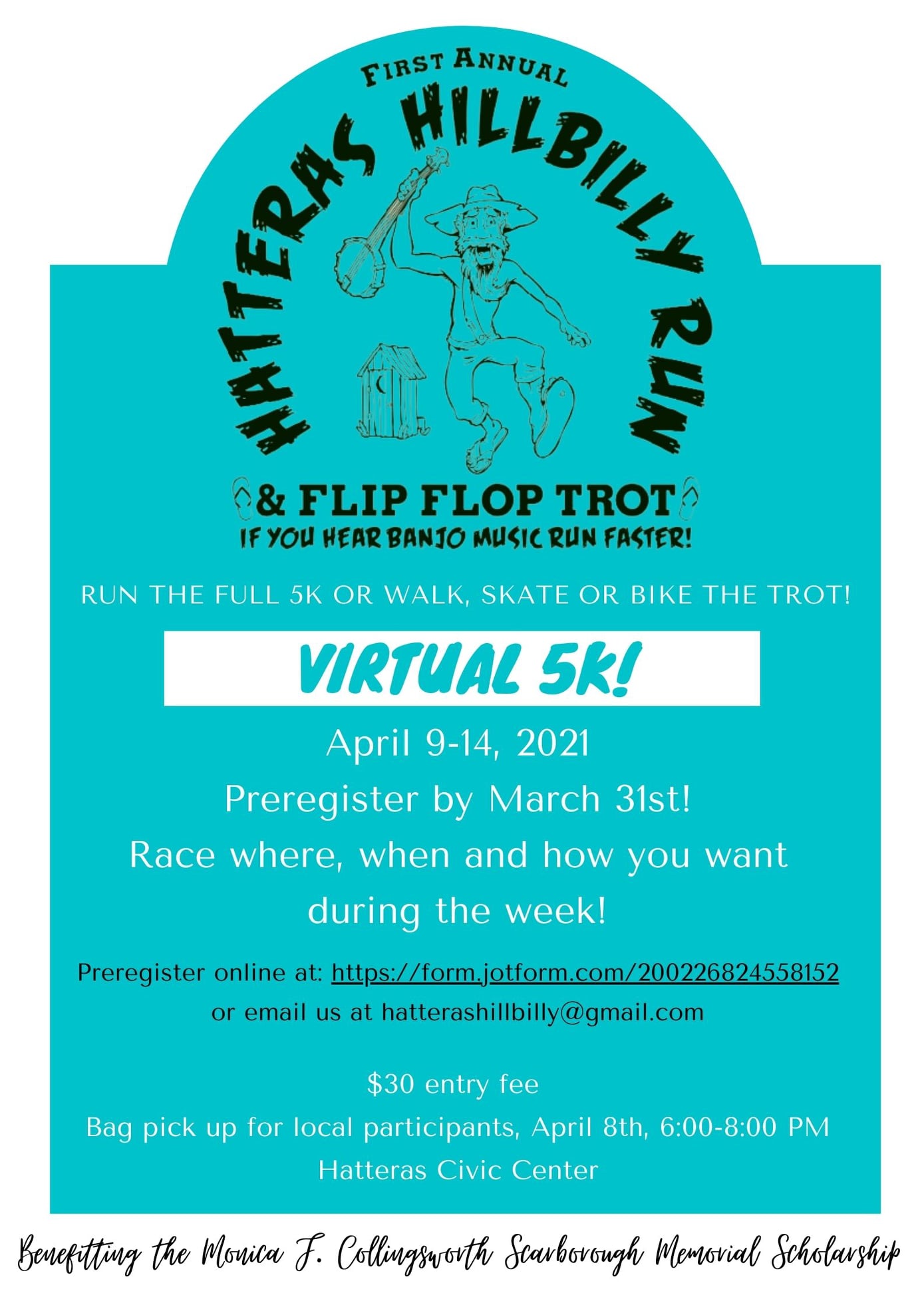 The Hatteras Hillbilly Run and Flip Flop Trot, which was canceled in 2020 due to the COVID-19 pandemic, is back on track for 2021 via a virtual event that will be held the week of April 9-14.
The Hillbilly 5K and Flip Flop Trot was launched in memory of Monica Scarborough, who lost her battle with cancer in April 2019. All proceeds from the event will fund a $2,500 scholarship for a graduate of Cape Hatteras Secondary School whose life has been touched by cancer.
Registration for the event is $30 per person, and registration can be completed online at: https://form.jotform.com/200226824558152.
Fees can either be mailed to Hillbilly Run, P.O. Box 24, Hatteras, N.C., 27943, or paid at bag pick up, which will be held on April 8 from 6:00-8:00 p.m. at the Hatteras Civic Center. Participants are advised to complete their registration by March 31 in order to guarantee their receipt of the official Hillbilly Run T-shirt.
Participants can complete the 5K in Hatteras Village on the marked route anytime from April 9-16, (and can take a photo at the finish line to post), or can complete the race anywhere they wish during the designated April time period. Participants who choose to complete the 5K elsewhere will be sent their packets, and can post their finish line photos on the event's Facebook page at https://www.facebook.com/Hatteras-Hillbilly-Run-and-Flip-Flop-Trot-109409380605735/.
All are welcome to attend, and to join the race virtually and in spirit, to help raise funds for a very worthy scholarship. For more information, and to register for the race, visit the official registration page at https://form.jotform.com/200226824558152.