One day after Dare County reported a record 75 cases of COVID-19, the county announced only 11 additional cases on Jan. 11. Ten of them involve residents of the county while one involves a non-resident. Also, the Dare County Department of Health and Human Services (DHHS) has confirmed that there is currently a COVID-19 outbreak in the Dare County Detention Center.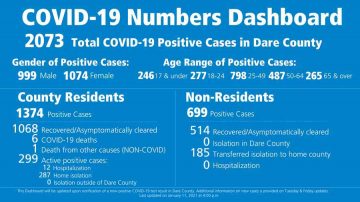 There has been a total of 18 cases to date, of which, 11 are inmates and 7 are staff. All of these cases are currently active. The DHHS says the Detention Center is following all state mitigation and control guidelines and protocols, which includes weekly testing of all staff and inmates, until the outbreak is over.
Currituck County
Currituck County announced today that it has established a call center for residents age 75 and older to register if they would like to receive a COVID vaccination. Any Currituck County resident age 75 and older, who has not already registered with the health department, may call 252-232-2115 to provide their name and contact information.
The call center will be open from 8:00 a.m. – 5:00 p.m., Monday through Friday. Currituck County will provide Albemarle Regional Health Services (ARHS) with a daily updated list of registrations and ARHS staff will subsequently contact each person to schedule a vaccination or inform them of an upcoming vaccination clinic.
Citizens can find information regarding the COVID-19 vaccine on the ARHS website, at http://www.arhs-nc.org.
North Carolina
The North Carolina Department of Health and Human Services reported 5,936 new cases of COVID-19 on Jan. 11. The number of hospitalizations rose by 69 over the previous day to reach 3,843 while the percentage of positive tests reported today rose slightly, up to 13.9%.
The overall number of cases reported by the state since the outset of the pandemic is now 629,124. Out of those, 521,475 people are now listed as presumed recovered.  And 7,578 people have succumbed to the virus in North Carolina.
Today's statewide NC coronavirus numbers
Total reported NC cases – 629,124
New cases reported today – 5,936
Reported deaths – 7,578 (11 since yesterday)
Currently hospitalized – 3,843 (69 more than yesterday)
Suspected COVID-19 cases hospitalized in past 24 hours – 247 (down 37 from yesterday)
Confirmed COVID-19 case hospitalized in past 24 hours – 422 (down 31 from yesterday)
Adults in ICU with COVID-19 – 811 (up 21 from yesterday)
Patients presumed to be recovered – 521,475
Reported cases in Dare, Currituck and Hyde Counties – 3,380 (Dare 2,062, Currituck 827, Hyde 491)
Completed tests – 7,611,324
Daily percent positive tests – 13.9%
Received first dose of vaccine – 151,902, received both doses—9,115
Note: Every morning, the NC Department of Health and Human Services posts updates the number of reported cases of coronavirus. That number reflects positive results from all tests, including the NC State Laboratory of Public Health and all hospital and commercial labs. There may be other reports, from the media and elsewhere, that will include different numbers during a given day, but this is an effective way of tracking numbers from the same source on a day-to-day basis.
SOURCE: NC DEPARTMENT OF HEALTH