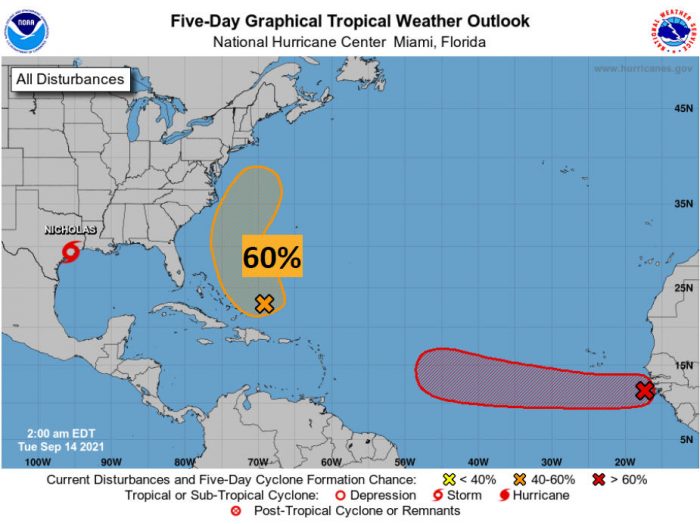 An area of low pressure is expected to form north of the Bahamas in the next several days, which could result in the formation of a tropical system and an increased risk of rip currents along the Outer Banks, per a recent update from the National Weather Service.
Gradual development of this system later this week is possible, and a tropical depression could form several hundred miles southeast of North Carolina while the system moves northwestward across the western Atlantic. The National Hurricane Center (NHC) currently has the area at a 60% probability of formation.
"While there is still a lot of uncertainty about potential formation, the most likely impacts that we can convey with some confidence at this point are an increase in rip current threat along the beaches late this week into the weekend, and some deterioration of marine conditions," stated the NWS Newport / Morehead City office in a Tuesday morning update.
On Tuesday morning, there was a low risk of rip currents throughout the Outer Banks.
The public should check surf and swimming conditions before heading to the beach, and the daily beach forecast at www.weather.gov/beach/mhx includes rip current risk levels, and information about other hazards along the beach. In addition, visitors are encouraged to sign up for text alerts from Dare County, ocean rescue agencies, and the National Weather Service by texting "OBXBeachConditions" to 77295.
For more information on the local forecast, visit www.weather.gov/mhx for general weather information, or the National Weather Service office in Newport / Morehead City's Facebook page at https://www.facebook.com/NWSMoreheadCity/.