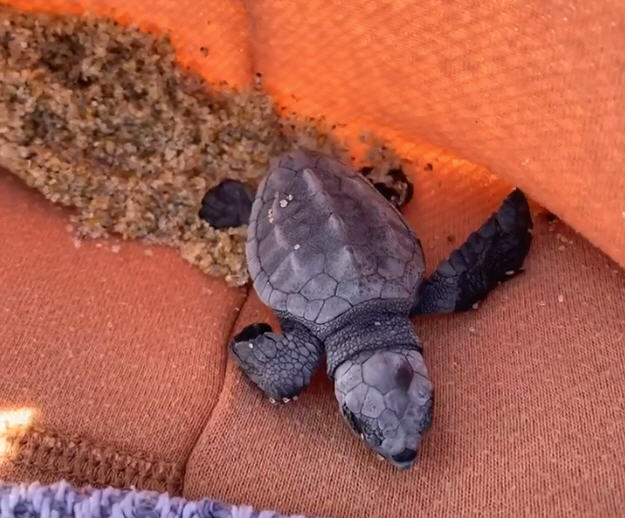 Beachcombing is more than just finding treasures on the beach. The saying "The early bird gets the worm" is often true when beachcombing for seashells, and many people, especially new beachcombers, often race to be the first ones on the shore, as the first person on the beach will no doubt get the biggest and most obvious shells.
On the Outer Banks, the humongous whelk shells are what early morning beachcombers go for, but these definitely aren't the only treasures that can be found. In fact, some of my favorite shells to search for fit in the palm of my hand and don't get any bigger than a dime.
Last week, I woke up late after having a long work week and headed to the beach around 8:00 a.m., after finishing my morning chores. There's no way of ever knowing what gifts the ocean has in store for beachcombers, and I always say that you never know until you go.
When I arrived, I found several other beachcombers already there, but I didn't come to just collect treasures, but rather to recharge my soul with all the wonderful elements the beach offers. Sunshine on my skin, breathing in salty air, hearing the waves crash ashore, and watching nature thrive. I couldn't stay too long as I had to get back home, but I planned on walking for 45 minutes one way before turning around and heading back.
The sand was very soft up by the high tide line, so I decided to walk down by the edge of the water, and as a beachcomber, I am constantly scanning the sand looking for anything. About five minutes into the walk, I spotted something that stopped me in my tracks. It was a tiny, baby sea turtle.
This baby sea turtle was no bigger than two inches and was high up on the shoreline. The other beachgoers in front of me never saw this guy struggling, because he was trapped in someone's deep footprint. It was heartbreaking to watch him struggling to get out of one single footprint, so I scooped him up.
I ended up finding four more, and one was flipped upside-down on his back, really struggling. I called the National Park Service's (NPS) Sea Turtle Hotline at 252-216-6892, and the ranger told me at this point the best thing to do was to get them all back in the ocean, so that's just what I did.
Now, I am about to say something that every islander I know will back me up on, and that is NEVER swim alone. You should never enter the water, ocean or sound, without someone else around because the most experienced of people can have tragic accidents when the open water is involved.
There were others around on this day, but I have to admit my actions were not the smartest.
I panicked. I have only ever encountered a live, baby sea turtle two other times, but both times were with experienced NPS rangers. This was the first time on my own finding these mystic creatures, so my natural reaction was to get them back into the water as quickly as I could.
I could have let them go at the water's edge, (which is typically a safe way to re-release baby sea turtles), but I wanted to make sure they were past the first shore-break wave, which was only a foot high.
What I didn't notice was the drop-off on the other side of the wave, and I fell right into the ocean. I had on a sweatshirt skirt, a hoodie, and a thermal shirt that just became soaking wet and tripled the weight of each garment. If it had been winter, I probably would have had hyperthermia because I was drenched, but thankfully, it was warm out and there was a good breeze, so I could dry off quickly as I continued walking down the beach searching for any more stranded turtles, (although there were no more).
It was by far one of the greatest moments of my beachcombing career! More often than not, I find deceased marine life on my walks, so finding these guys unharmed made my heart feel like it was going to burst with love.
After telling a few people, I decided to write about it – not because it was so cool to find them, but because of some of the responses I received.
Some didn't know who to contact, (and I was one of those people, too, but now have the Sea Turtle Hotline number saved in my phone.)
Several people thanked me for returning them to the ocean and not keeping them. I couldn't ever imagine keeping a marine life animal as a pet. The ocean is a gigantic part of earth that we understand so very little about. No one should think that it is OK to take an animal away from their habitat, no matter where they are – ocean, forest, or desert. These animals belong where they are found, and we are visitors in their world. Encountering a marine animal is one of the greatest gifts the ocean can offer, and it should be honored as such.
In any case, although my beach walk didn't yield any physical treasures, the experience will remain in my memory for years to come.
For more information on the 2022 sea turtle nesting season, including what to do if you spot baby sea turtles, click here.
About the Author: Kristin Hissong is a North Carolina native, a UNC Charlotte graduate, an Outer Banks resident of nearly 20 years, and a dedicated, "professional beachcomber." She has spent more than 20,000 hours walking on both our local shores and shorelines around the Eastern Seaboard, and has collected thousands upon thousands of items from the Atlantic Ocean. 
For the past decades or so, she has been beachcombing on Hatteras and Ocracoke Islands every day, collecting both treasures and trash on her routine expeditions. From typewriters to coffee makers, fishing rods to recliners, if you name it, there's a good chance she has seen it washed up, and has hauled it back to her collection, or to the closest dumpster.