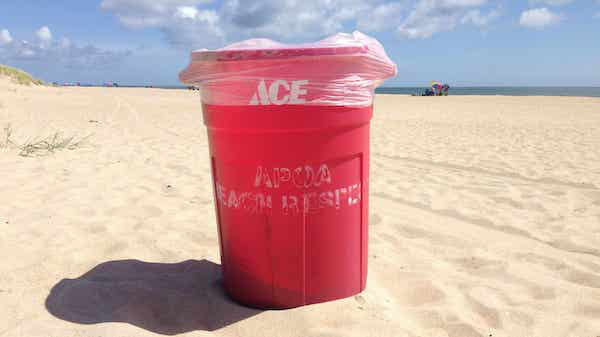 The Avon Property Owners Association's (APOA) Operation Clean Beach Program is in full swing for the summer of 2022 after a few delays that stemmed from beach closures, early-summer erosion, and the ongoing beach nourishment project.
Through the program, (which has been going strong for more than 15 years), the APOA stations 75 red trash cans along the beach in the village of Avon, as both a service for visitors, and as a way to keep the shoreline clean during the peak season.
"This program is a convenience to visitors," said Rick Anzolut, APOA Coordinator, in an earlier interview. "It makes it easy to discard the [items] you're not bringing back to the cottage. Our membership likes it a lot, too, because if they are taking a beach walk, and they find trash to be discarded, they don't have to carry it around."
APOA provides the trash cans and also arranges for pick-up three times a week in the summer months, typically on Mondays, Wednesdays, and Fridays. But in the past several weeks, there have been hiccups and schedule alterations due to the following factors, which were shared in an email to all APOA members:
Photo by Keith McCulloch

The initial lack of sand under the Avon Pier prevented the new contractor from accessing certain areas of the beach with the trash collection truck.

Ramp 34, (north of Avon), closed due to bird nesting, which prevented the contractor from easily accessing the northern areas of the beach.
The continuous movement of heavy equipment being used for the beach nourishment project has temporarily blocked some sections of the shoreline.
"Thankfully, the beach nourishment project is making good progress," stated the emailed update. "Our contractor can now get his truck onto the beach and resume the beach trash pickup on schedule… Our thanks to everyone for their patience and understanding."
Beachgoers should dispose of all waste in the trash cans themselves, and not leave trash next to the cans, to ensure easy pick-up.
The public is also welcome to donate funds for the summertime trash pick-up program, to keep it running for years to come. For donations to the 2022 Operation Clean Beach Program, checks can be mailed to APOA, PO Box 9, Avon, NC 27915