After COVID disruption, outlook brighter for international students coming to OBX this summer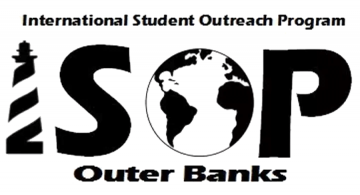 After weathering two summer seasons with few international exchange students able to come to the Outer Banks due to the COVID-19 pandemic, local business owners should expect more of those students to arrive this spring and summer, representing levels closer to pre-pandemic years.
"The indications are that there is going to be a sizable number of students coming to the Outer Banks this summer," said Clay Lewis, the Employer and Community Engagement Manager at the New York-based Interexchange agency. That is one of the agencies that places exchange students on the Outer Banks as part of the U.S. State Department's J-1 Visa Summer Work Travel program.
Lewis said that the visa processing for the students in the program this spring and summer has been progressing smoothly, and "there are a good number of participants who have actually begun their exchange programs on the Outer Banks already, which is also promising,"
"Our numbers are not quite where they were in 2019, which was the last kind of normal season we had, but we are very close to those numbers," Lewis added, speaking of his agency.
In 2021, there were 995 J-1 participants who came to the state of North Carolina to work during the summer months, compared with 2,852 the previous season. Outer Banks International Student Outreach Program (ISOP) Chair Jamie Banjak told the Voice that only a small fraction of the 1,800 exchange students who came to the Outer Banks to work in 2019 were here for the summer of 2020 (about 200 program participants) and the summer of 2021 (about 400).
Both Banjak and Lewis acknowledged there are uncertainties — such as border closings and visa holdups and embassy disruptions — when it comes to estimating how many exchange students will actually arrive in the United States.
"We will see more participants this year than we saw in 2020 and in 2021," Banjak said. "But I don't expect us to be at pre-pandemic numbers…I expect us to have more than 400 and less than 2,000. And anything within that range, we'd be really happy with."
Banjak noted that the Outer Banks has a solid group of employers who are invested in the program and depend on exchange visitors each year. "People know what the program is here, they appreciate it, they take care of our participants," she said. "We have that community network and very engaged employers with this program."
She added that while housing remains a factor, local employers who have historically participated have stepped up to provide housing to their exchange students.
"We've had a lot of…super-invested employers who were looking at this situation and said, 'If I want to participate in this program, and I want these people to help me keep my business open, I've got to invest in the program and invest in the people, and that means investing in housing.'"
Banjak said that off the top of her head, she can think of five or six local employers who, in the last three years, have purchased housing for their employees.
---
ISOP's mission is "to provide a safe and successful experience for the exchange visitors who temporarily live and work in the Outer Banks every summer." The organization provides bike lights, reflective gear to the students as well as hosts orientations to educate them about safety and cultural opportunities on the Outer Banks. It also has an emergency fund set up with TowneBank in case there is a need to evacuate students in the event of a hurricane or other natural disaster. To donate to ISOP or its emergency fund, or learn more about the organization, email obxisop@gamil.com.