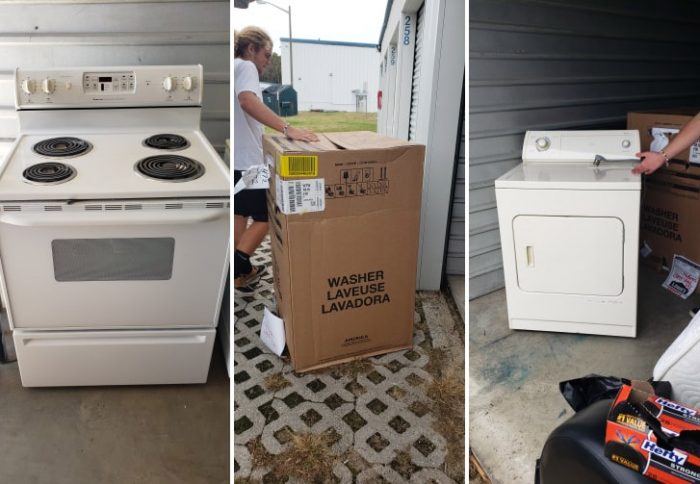 Appliances are still needed in areas hit hardest by Hurricane Dorian, and donations are still being collected in the northern Outer Banks via a partnership between Nags Head local Connie Leech and Nags Head Self Storage.
Leech has been working in the past few weeks to organize donation collections in the northern Outer Banks – an initiative that she began shortly after Hurricane Dorian made landfall on September 6.
Working with Cape Hatteras United Methodist Men, it was determined that a good route for larger donations was to secure a storage unit at Nags Head Self Storage, and to orchestrate deliveries from there. However, Leech is happy to work with anyone who needs a hand with large item pick-ups, and who wants to donate larger items to the southern Hatteras Island and Ocracoke Island residents who need them the most.
"Washer and dryers are the main need, but we are still collecting other items as well," says Leech. "We said in the beginning this would be a marathon run, not a sprint."
Working and gently used appliances, gently used or new furnishings, and new blankets and comforters are all being requested, and folks who are interested in contributing large donations can email Connie Leech at tcemleech@aol.com, or connect with her on Facebook. Donations can be picked up, and / or other transportation arrangements can be made as needed.
"The larger donations – like appliances, dishwashers, driers, furniture – that's what we're trying to get rolling here," said Leech in an earlier interview. "I tell everyone 'We can help you haul it, we can haul it for you, or we can meet you at the Nags Head Storage Unit."
A storage unit at Nags Head Self Storage will continue to be available for the next few weeks for large donations.
For more information on Connie Leech's story and the northern Outer Banks-wide effort to assist islanders affected by Dorian, see https://islandfreepress.org/outer-banks-news/nags-head-local-becomes-an-essential-link-for-delivering-supplies-to-hatteras-island/.