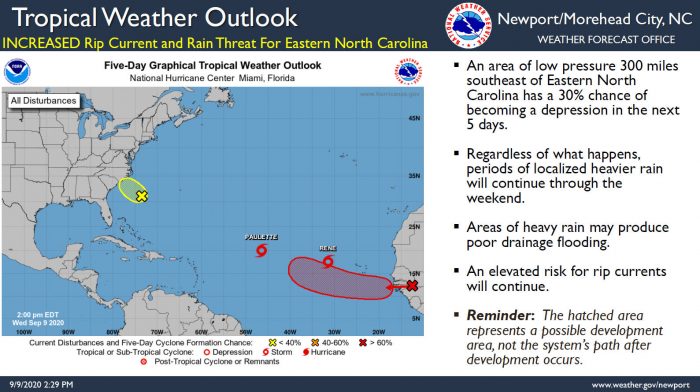 An area of low pressure 300 miles southeast of Wilmington, N.C., is expected to bring heavy rains, an elevated risk of rip currents, and breezy weather through the end of the week, per a Wednesday afternoon update from the National Weather Service (NWS) Newport / Morehead City office.
The low pressure system has a 30% chance of becoming a tropical depression within the next five days, and regardless of development, periods of localized heavy rain will continue through the weekend.
Areas of heavy rain may produce flooding in poor drainage areas, and an elevated risk of rip currents will continue as well for through the rest of the week.
For more information on the local forecast, visit www.weather.gov/mhx for weather information, or the National Weather Service office in Newport / Morehead City's Facebook page at https://www.facebook.com/NWSMoreheadCity/.