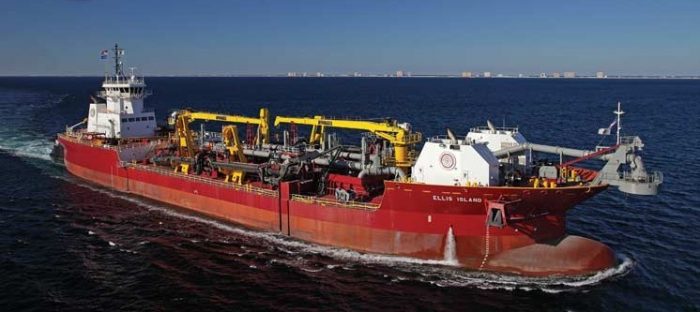 Great Lakes Dredge and Dock Co. has announced that the dredge Ellis Island—which left Buxton on Monday to head to Norfolk, Virginia, for repairs, maintenance, and refueling—left port in Norfolk this morning (Friday, July 22) to make its return to Dare County.
The current plan is for the Ellis Island to begin work on the Town of Nags Head's beach nourishment project. If any issues are found in the subline during the testing process, the Ellis Island will leave Nags Head and head to Buxton in the next day or two to resume the beach nourishment operations that were previously paused.
If testing goes well and the dredge Ellis Island remains in Nags Head, then the Liberty Island will be assigned to the Buxton project once the Avon project is completed and the dredge takes time to refuel. With this scenario, work in Buxton would likely resume on Thursday, July 28, or Friday, July 29.
Click here to view the Buxton project map, which shows the section of shoreline where beach nourishment has been completed, as well as areas that are closed for the staging of construction equipment.