Buxton beach nourishment project 60% complete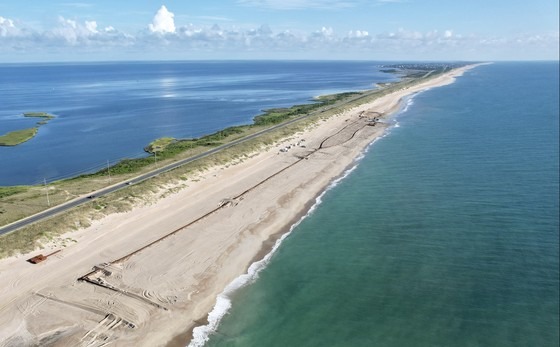 Great Lakes Dredge & Dock Co. has announced that the company has made significant progress since the dredge Ellis Island joined the dredge Liberty Island in Buxton on Tuesday, August 2, 2022.
These two dredges used two separate landing points, and together they have delivered approximately 200,000 cubic yards of sand along the shoreline of Buxton over the past three days. As of this morning (Friday, August 5, 2022), over 60% of the 1.2-million cubic yard contract volume has been placed on the beach, and nourishment in front of the Village of Buxton is now completed. The rest of the volume of sand will be placed north of the Village of Buxton along the Cape Hatteras National Seashore, and the project is expected to be completed by the end of August.
The Ellis Island is expected to continue to use the landing point near the south end of Town Circle in Buxton and pump north until the morning of Saturday, August 6, 2022. The pipes on the beach will be disassembled and removed, and the newly nourished beach is expected to be smoothed and opened to the public by Sunday morning, August 7, 2022. The dredge will then shift to the landing point located approximately 3,000 feet north of the northern boundary of Buxton that the Liberty Island is currently using.
A third landing point that is located approximately 8,000 feet north of Buxton has also been partially installed. Great Lakes Dredge & Dock Co. has scheduled a bull gang to complete the setup of the third landing point tomorrow morning. The Liberty Island will start using this third landing point once the installation is complete. At that time, both dredges will pump north for a few days before switching directions.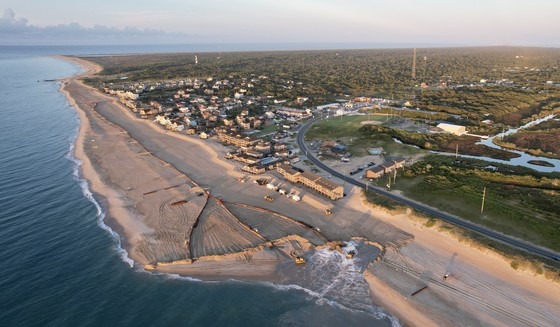 Click here to view the Buxton project map, which shows the areas of shoreline where beach nourishment has already been completed, as well as areas that are currently under construction or closed for the staging of equipment.
Visit www.MoreBeachToLove.com for the latest information about all 2022 beach nourishment projects taking place in Dare County, including projected timelines and answers to the most frequently asked questions.