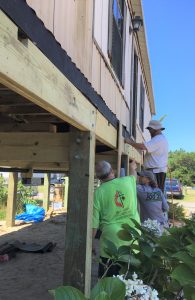 The Cape Hatteras United Methodist Men (CHUMM) is looking for volunteers to serve as Assessors who will help determine how CHUMM can assist families in need after a hurricane or other disaster impacts the Outer Banks.
Per Dennis Carroll of CHUMM, one of the greatest barriers to the organization's disaster response is a shortage of Assessors who play a pivotal role in determining what work needs to be done.
"We frequently had volunteer teams and workers show up before we were prepared for them. We didn't know where best to send them, and what was needed," stated Carroll in an email.
"The Assessors don't need to be construction experts. This is for disaster relief, not rebuilding. The Assessors simply get out early after the event, in pairs, evaluate the urgency of the need, complete the assessment and write Work Orders. With the Work Orders, the Early Response dispatchers have specific information for dispatching Early Response Teams (ERT) or workers. The Work Orders include the urgency, skills, tools, and materials needed, along with any special information. The Assessors also make sure that the owner contact information is available, and that a liability release form is signed."
CHUMM will host a trainer from the NCUMC Conference on July 10 or July 24 to help familiarize new volunteers with their roles. The training may also be held in conjunction with basic ERT and refresher training for current volunteers.
In addition, ERT members are needed to help with storm response, and volunteers are also needed to work at CHUMM's help desks at the island's fire stations. Another need is for volunteers to serve as local guides and resources for work teams. "The local Guide/Resources help work teams from out of the area with their needs, making them more efficient.," stated Carroll.
"Please consider volunteering for these needs. No special physical ability or skill, beyond normal mobility and communication ability, is required," stated Carroll.
For more information or to sign up as a volunteer, email CHUMM at chmethodistmen.gmail.com, or call Dennis Carroll at (252) 305-4925, or Jeff Kloss at (814) 241-0718.
Donations and support are also continually needed on a local level to keep all CHUMM initiatives going, and the public can donate via the Cape Hatteras Unites Methodist Men website at https://www.hatterasmethodistmen.org/.
Supporters can also donate by mail. Checks should be written to United Methodist Men and mailed to Cape Hatteras United Methodist Men, P.O Box 1591, Buxton, NC 27920.