The Outer Banks Community Foundation (OBCF) awarded the Cape Hatteras United Methodist Men (CHUMM) their 2020 Champion Award at the organization's annual meeting on February 16, 2021.
CHUMM was one of three Champion Award winners in 2020, and the other two winners were the Ocracoke Fire Protection Association and Interfaith Community Outreach.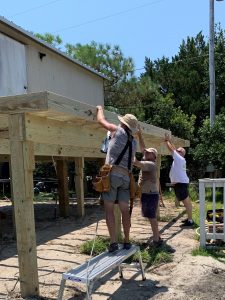 CHUMM's post-Dorian efforts and initiatives were highlighted in a short video by the OBCF, which can be viewed here.
Following Hurricane Dorian in September of 2019, CHUMM has been hard at work conducting long-range initiatives to reduce storm damage on Hatteras Island, which includes a 2020 project to lift trailers for owners and occupants who have experienced repeated flooding in the past. CHUMM also assisted Ocracoke residents in several three-week intervals after the historic 2019 storm, working in conjunction with the North Carolina Conference United Methodist Committee on Relief (UMCOR) from their Ocracoke Island Work Center.
Donations and support are continually needed on a local level to keep all CHUMM initiatives going strong, and the public can donate via the Cape Hatteras United Methodist Men website at https://www.hatterasmethodistmen.org/.
Supporters can also donate by mail. Checks should be written to United Methodist Men and mailed to Cape Hatteras United Methodist Men, P.O Box 1591, Buxton, NC 27920.