Coast Guard Station Oregon Inlet rescues four caught in heavy seas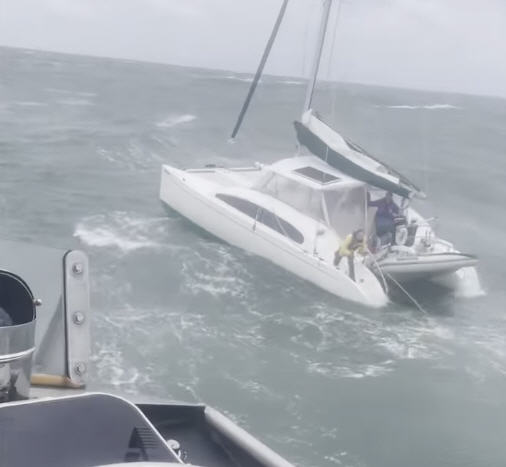 On Thursday, September 29, U.S. Coast Guard Station Oregon Inlet responded to a report of four mariners aboard the S/V KATALYST caught in heavy seas and unable to make way to safe haven.
The Coast Guard's 47251 and 47258 Motor Lifeboats responded to the incident, with the 47258 directly responding to the distressed mariners and the 47251 conducting a bar standby to ensure the safety of the rescue operation.
Due to the weather conditions, the mariners anchored the sailing vessel outside of the Oregon Inlet Bar and the crew of the 47258 recovered the four mariners after they abandoned ship.
Midway through the operation, the anchor line snapped and the vessel rapidly began drifting onto the bar. The coxswain expertly maneuvered the 47258 into the surf zone to recover the remaining mariners and proceeded to return to the station.
"All mariners are reminded to maintain awareness of current and forecasted weather conditions to ensure the safety of their vessel and crew," stated Station Oregon Inlet in an online update.
A video of the incident can also be found online at https://www.facebook.com/USCGStationOregonInlet.