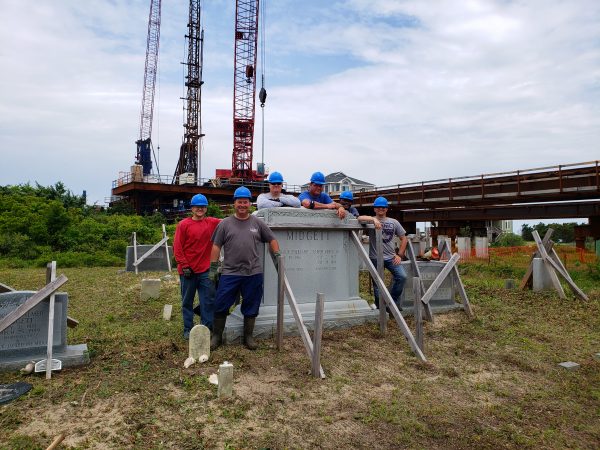 Roughly two dozen Coast Guard members from stations as far away as Elizabeth City volunteered their time on Friday to do a thorough spring cleaning of historic cemeteries that are dotted throughout Rodanthe and the Tri-villages.
The April 26 endeavor is part of a long-term operation to bring these hidden cemeteries back to life, and to honor the former U.S. Coast Guard and Life-Saving Station members who are buried at these secretive spots.
This is the third time that the U.S. Coast Guard members have come together to conduct a massive cleaning operation, which entails clearing brush, mowing, weed whacking, and making these sites more visible and accessible.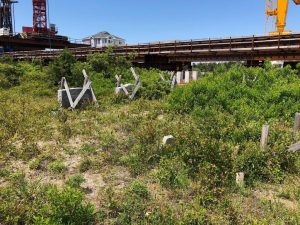 With the last cleanup occurring in the fall of 2018, the volunteer crew targeted three sites that had become overgrown since their last efforts. These sites included a graveyard close to the water tower, a graveyard next to the Rodanthe Jug Handle Bridge construction site, and a graveyard across the street from Lee O'Neal Road, which is the final resting place of legendary surfman and Gold Lifesaving Medal recipient, Rasmus S. Midgett.
"We needed to do some spring maintenance," said Engineering Petty Officer Chief Jamison Smith of Station Hatteras Inlet. "It has grown a lot over the fall, and some of the gravesites became [invisible] again with brush and debris."
Chief Smith originally spearheaded the semi-annual cleanup project along with Chief Warrant Officer Ryan Gentry, (who has familial ties to the area), in early 2018.
At the time, they discussed the sheer number of gravesites of past heroes that were located throughout the island, but which had disappeared out of sight due to years of tree and brush growth.
"Ryan Gentry and myself wanted to do this as a community service project," said Chief Smith in an earlier interview. "When we looked at the sites, and saw the scope and the magnitude of the project, we knew we would need more help."
Since that initial discussion and idea, dozens of U.S. Coast Guard members have stepped up to the plate, and have spent a well-deserved day off hauling their personal yard equipment and materials to Rodanthe to work in the brush and dirt.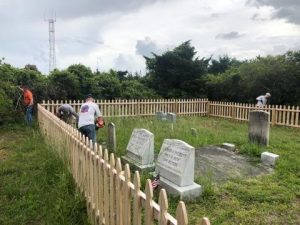 During this most recent spring cleaning, the volunteers represented a wide array of U.S. Coast Guard stations and sectors throughout coastal North Carolina, which included Station Hatteras Inlet, ESD Outer Banks in Wanchese, the Air Station Elizabeth City, the Aviation Technical Training Center Elizabeth City, the Aviation Logistics Center Elizabeth City, and the Elizabeth City base.
On this occasion, the volunteers also uncovered a hidden gravesite that was tucked away next to the Jug Handle Bridge construction area.
"Flatiron Construction discovered a new gravestone that we weren't aware of, so we are clearing a path to the site, and plan on making a fence around this [graveyard] in the future," said Chief Smith.
The crew was treated to lunch from the Hatteras Island Christian Fellowship for their efforts, and even though their semi-annual cleanups will continue, Chief Smith hopes that they can add more clearing operations in the future.
"We want to keep this growing, and we want to do it more often than every six months," he said, noting that the volunteers are planning to address additional overgrown graveyards in other corners of the island, such as in Hatteras village. "We definitely want to do more sites."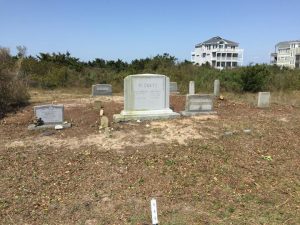 It was a tough day of yard work for the volunteers, which started at 8 a.m. and continued into a stormy afternoon. Though they were tended to just months ago, the three graveyards had been covered by vines, brush, and aggressive weeds, and trucks and trailers were needed to haul the brush away, and to make the headstones shine and stand out once again.
But, as always, when it comes to tackling thorny and inaccessible sites and stormy weather, it's incredible what the all-volunteer U.S. Coast Guard crew can accomplish in just a few hours' time.
By the end of the day, the three graveyards had been completely cleared, and even the small site at the edge of the bridge construction project – which was literally overshadowed by multiple stories of equipment – were prominently visible once again.
"A lot of volunteers come back every time, and we also have a new group of volunteers joining us for this cleanup," said Chief Smith. "We just want to keep this going, and continue this service for the community."
If you know of a graveyard that needs assistance…
Chief Smith reports that the U.S. Coast Guard volunteers would like the public's assistance in identifying graveyards on Hatteras Island that need to be cleared.
If you know of a site that needs attention and is severely overgrown, contact Engineering Petty Officer Chief Jamison Smith at U.S. Coast Guard Station Hatteras Inlet at (252) 986-2175.