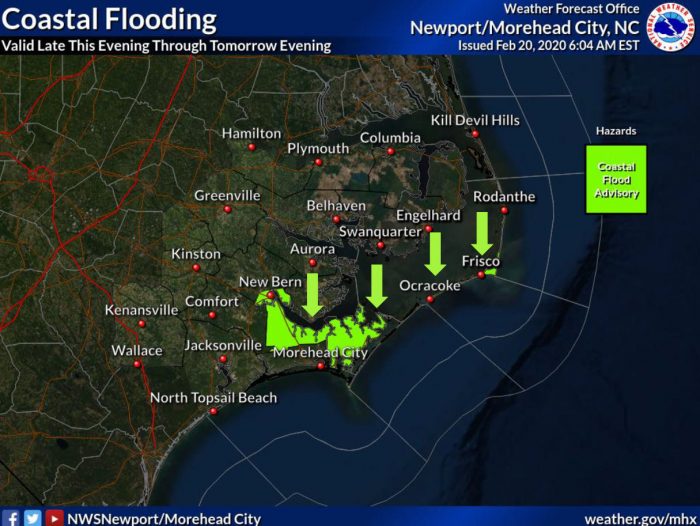 A Coastal Flood Advisory, Wind Advisory, and Gale Warning have been issued for the Outer Banks ahead of a winter storm which is expected to bring strong winds and possible coastal flooding to Hatteras and Ocracoke islands beginning Thursday night.
Per a Thursday morning update from the National Weather Service (NWS) Newport / Morehead City office, elevated water levels and minor (1 to 2 feet above dry ground) inundation is possible for low lying areas near the southern end of the Pamlico Sound, and particularly southern Hatteras Island and Ocracoke Island.
Wind gusts up to 45 mph are also forecast beginning late Thursday night, as well as rough seas which will continue through Friday.
A Winter Storm Warning is in effect for mainland Dare County, as 4-6 inches of snow is forecast for Eastern N.C., with up to 9 inches possible. Along the Outer Banks, accumulating snowfall is not expected, however a mixture of rain and snow could make travel conditions hazardous through Friday morning.
Freezing temperatures in the low 30s are also forecast for Friday night, which could possibly damage unprotected outdoor plumbing. Residents are advised to take steps on Thursday to prevent freezing and possible bursting of outdoor water pipes by wrapping, draining, or allowing pipes to drip slowly.
For more information on the local forecast, visit www.weather.gov/mhx for weather information, or the National Weather Service office in Newport / Morehead City's Facebook page at https://www.facebook.com/NWSMoreheadCity/.