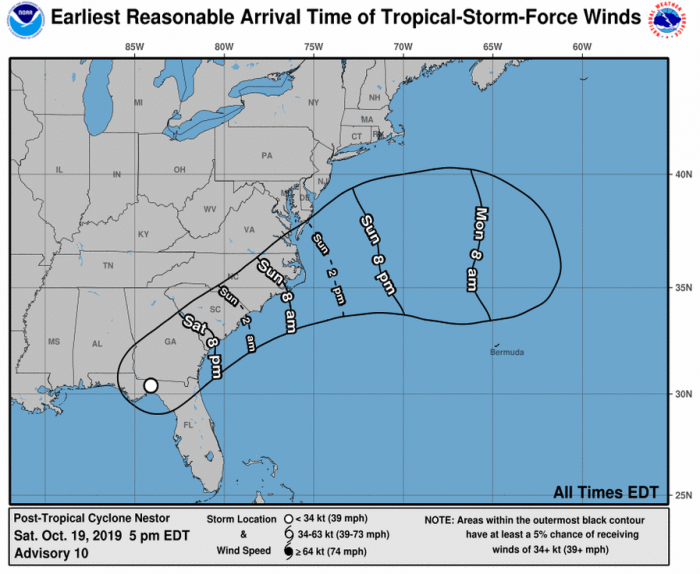 The National Weather Service office in Newport/Morehead City has issued coastal flood and high surf advisories as post-tropical cyclone Nestor approaches Eastern North Carolina.  A high wind advisory remains in place for the Outer Banks as well through Sunday.
Post-tropical cyclone Nestor made landfall on the Florida Panhandle earlier this afternoon, and was downgraded from a tropical storm on Saturday morning. As the remnants of Nestor move across Eastern North Carolina on Sunday, gale-force southeast to south winds in the 30 mph range in the morning will veer to the northwest and north in the afternoon, and will contine through Sunday night.
The strong winds will produce rough surf of 5 to 7 feet, dangerous rip currents, strong longshore currents, minor beach erosion, and minor soundside flooding from late Saturday night into early Sunday morning.
Dangerous rip currents and high surf will be a threat at all area beaches throughout Sunday.  Soundside flooding is forecast to occur with an inundation of 1 to 2 feet above ground level possible.
Areas of greatest impact are largely dependent on the track of the low, but locations with dune structures already weakened by Dorian and last week's nor'easter will be particularly vulnerable. Motorists should proceed with extreme caution during storm conditions and never drive into flood waters. For real-time travel information, visit DriveNC.gov or follow NCDOT on social media.
For more information on the local forecast, visit www.weather.gov/mhx for weather information, or the National Weather Service office in Newport / Morehead City's Facebook page at https://www.facebook.com/NWSMoreheadCity/.