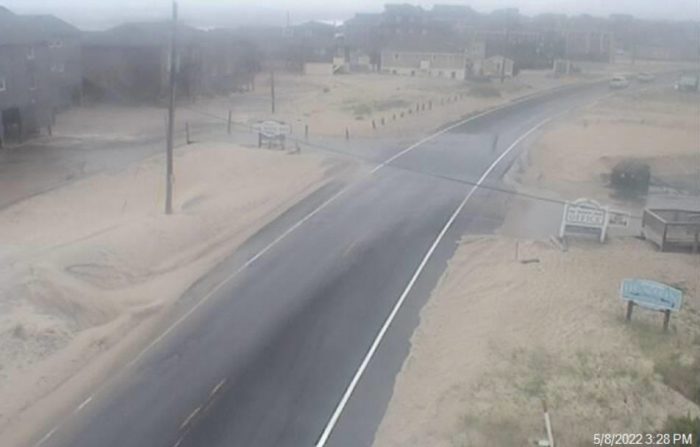 Multiple advisories are in place as a multiple-day coastal storm starts to impact the Outer Banks, including a Coastal Flood Warning, Wind Advisory, High Surf Advisory, and Gale Warning, per a recent update from the National Weather Service.
Minor ocean overwash was reported in Buxton with Sunday afternoon's high tide, however N.C. Highway 12 remains passable throughout as of 3:00 p.m.
All ferry operations to and from Ocracoke Island have been suspended as of 4:00 p.m. due to deteriorating weather conditions, which includes the Hatteras-Ocracoke, Swan Quarter-Ocracoke, and Cedar Island-Ocracoke ferry routes.
A low pressure system will continue to linger off the Outer Banks from Sunday through Wednesday, and ocean overwash is expected to become more impactful with each successive high tide cycle beginning late tonight.
The next high tide is at approximately 2:00 a.m. on Monday, and N.C. Highway 12 may be impacted and impassable for prolonged periods of time in the next several days.
Along the soundside, 1 to 3 feet of inundation for very low-lying areas will result in minor flooding of properties and some roadways, particularly for Ocracoke Island and southern Hatteras Island. Water levels will likely peak on Monday night.
Winds will continue to increase on Sunday with maximum wind gusts of 45-50 mph currently forecast through Tuesday. Winds will peak late Monday night throughout the Outer Banks, then gradually diminish through the middle of the week.
Powerful surf with offshore wave heights up to 20 ft. and dangerous rip currents can also be expected for all Outer Banks beaches north of Cape Lookout.
For more information on the local forecast, visit www.weather.gov/mhx for weather information, or the National Weather Service office in Newport / Morehead City's Facebook page at https://www.facebook.com/NWSMoreheadCity/.