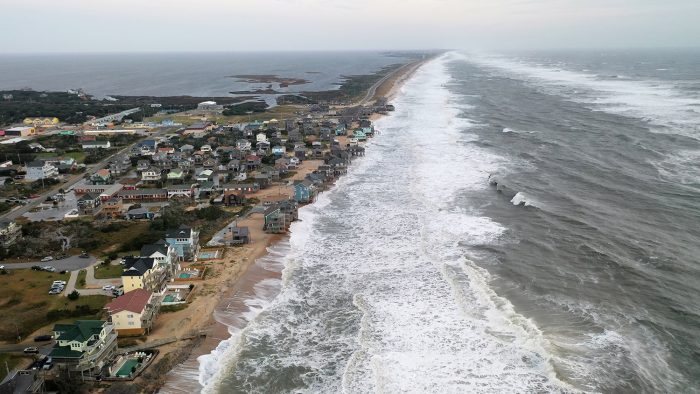 Coastal flooding is expected once again with Monday morning's 10 a.m. high tide, with impacts similar to Sunday, per a recent update from the National Weather Service Newport / Morehead City office.
Residents and visitors should expect flooding of very low-lying roadways and properties several hours before and after high tide. N.C. Highway 12 remains closed from Rodanthe to Mirlo Beach as of 8:00 a.m. on Monday. The highway closed north of Rodanthe during Sunday morning's 9:00 a.m. high tide due to ocean overwash, and at least one dune breach has occurred on Pea Island, leading to exacerbated flooding. NCDOT crews continue to work to clear the roadway of sand and saltwater, and the Island Free Press will post updates on the highway as soon as they become available.
All ferry operations on Ocracoke and Hatteras Islands are suspended due to the inclement weather.
Flooding along the southern Pamlico Sound continues to be a threat on Monday as well. Be alert for possible flooding along the sound, and especially south of Cape Hatteras. Fortunately, as wind begins to diminish today, water levels will begin to subside as well.
The low that has plagued the coast for the last two days is slowly moving away on Monday, with winds gradually diminishing through tonight. Coastal flooding issues could linger into Tuesday, and mainly for areas along the coast where dunes have been severely damaged.
For more information on the local forecast, visit www.weather.gov/mhx for general weather information, or the National Weather Service office in Newport / Morehead City's Facebook page at https://www.facebook.com/NWSMoreheadCity/.