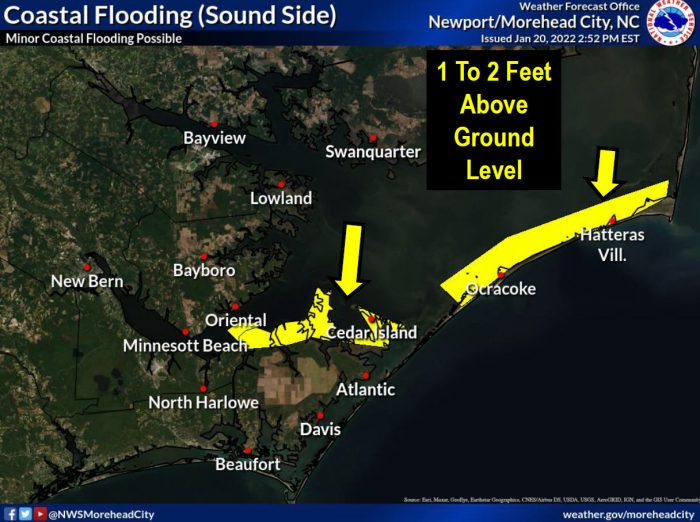 Mainland Dare County and the northern Outer Banks are under a Winter Storm Warning that starts at midnight tonight, and while Hatteras and Ocracoke Islands are not expecting snow, sleet, or ice during the imminent winter storm, the area could be impacted by soundside and oceanside flooding, per a recent update from the National Weather Service.
There is the potential for 1-2 feet of inundation above ground level along the soundside in Frisco, Hatteras Village, and Ocracoke Island, and oceanside flooding is possible from Rodanthe to the northern Outer Banks. A High Surf Advisory is set for 7:00 a.m. on Friday until 1:00 p.m. on Saturday, with large breaking waves of 6-9 feet expected in the surf zone.
Northerly winds of 25-35 mph, with gusts up to 45 mph, are expected across Dare County, and a High Wind Advisory and Coastal Flood Advisory will also go into effect for the Outer Banks on Friday. While the northern Outer Banks communities may see up to 2 inches of snow, Hatteras Island and Ocracoke will likely see only heavy rains for the duration of the storm, which is expected to start impacting eastern North Carolina late Thursday night.
Freezing temperatures are a concern for the southern Outer Banks on Saturday and Sunday, however, with temperatures in the low 30s expected on both Saturday and Sunday nights. The public is advised to protect outdoor pets, exposed pipes, and sensitive vegetation as needed.
For more information on the local forecast, visit www.weather.gov/mhx for weather information, or the National Weather Service office in Newport / Morehead City's Facebook page at https://www.facebook.com/NWSMoreheadCity/.