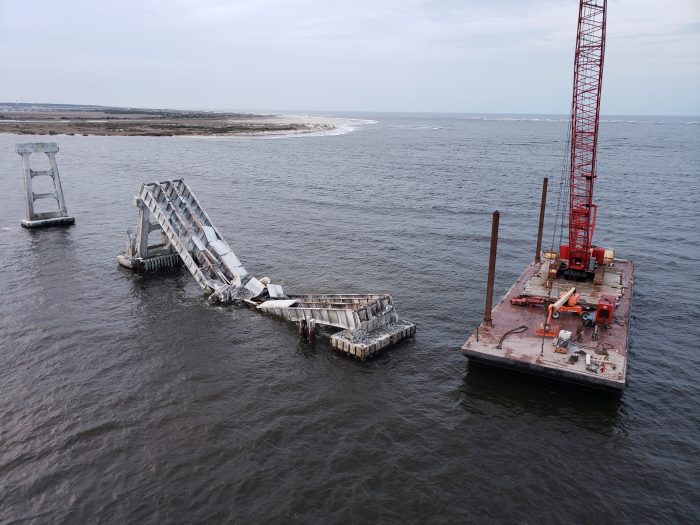 A federal workplace safety investigation into an April 14 incident at the Bonner Bridge replacement project found that established procedures were ignored, causing a 42-year-old welder on the Bonner Bridge in Rodanthe to fall more than 50 feet to his death when the last remaining part of the structure collapsed.
Employed by PCL Civil Constructors Inc., the worker was torch-cutting crossbeams on a section of the bridge where the company discarded concrete for removal. The concrete's weight caused the structure to collapse and the welder to fall.
The U.S. Department of Labor's Occupational Safety and Health Administration cited PCL Civil Constructors with two serious violations for failure to use engineering surveys or calculations to control the structure's stability and avoid unplanned collapses. OSHA also found the employer overloaded bridge sections beyond weight capacity and exposed workers to struck-by and crush-by hazards. OSHA has proposed $23,210 in penalties.
"PCL Civil Constructors violated federal safety standards and a worker needlessly died as a result," said OSHA Area Director Kimberley Morton in Raleigh. "If they had followed well-known standards, this tragic loss of life could have been prevented."
Under the Occupational Safety and Health Act of 1970, employers are responsible for providing safe and healthful workplaces for their employees. OSHA's role is to ensure these conditions for America's workers by setting and enforcing standards, and providing training, education and assistance.