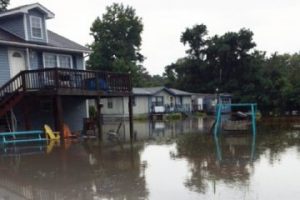 At their meeting on Monday, January 6, the Dare County Commissioners will get a preview of FEMA's revised flood maps for the county from Dare County Planning Director Donna Creef. On Dec. 19, the county received its Letter of Final Determination, and the maps will take effect as of June 19, 2020.
That timetable, according to an outline of Creef's presentation, will allow for a "six-month period for local adoption of revised maps, revised flood ordinance, and associated zoning amendments to several districts that use base flood as building height reference point."
Among other things, that period will include public hearings as well as outreach to interest groups and property owners, due to "the scope of the changes" in the revised maps.
The flood maps, and the methodology for creating them, have been sources of controversy among county officials. And according to county documents, under the new maps, there will be a "41% decrease in the number of properties in flood zone," which raises concerns about insurance issues.
In a section labeled "impacts of maps," Creef's presentation notes that some "property owners will assume their property will not flood due to map changes and will discontinue their flood insurance coverage" – leaving them vulnerable to uninsured flood damage. One outcome of this process is likely to be the launching of an official "outreach" program to county property owners to stress the importance of buying flood insurance.