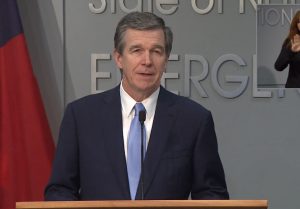 In response to a question at a May 18 press briefing, Governor Roy Cooper said he would announce by midweek whether North Carolina will move to Phase Two of easing COVID-19 restrictions on May 22. The governor was non-committal on whether the state will open further by that date, saying he is hoping to do so depending on what "our indicators and trends will tell us."
Early this month, Cooper announced that the state would move into Phase One of easing COVID-19 restrictions on May 8, explaining that the Order implementing that first phase would expire on May 22.
Under Phase Two, it is anticipated that businesses like bars and restaurants would be allowed to re-open, albeit at limited capacity, and that there would be some relaxation in the number of people allowed at a gathering, which is currently 10.
Cooper stressed that the Phase Two decision would be contingent on data tracking the trajectory of the virus. In her remarks at the May 18 briefing, North Carolina Department of Health and Human Services Secretary Mandy Cohen said that the state had seen its biggest one-day jump in new reported COVID-19 infections, 853 cases, over the weekend. She called that number "concerning," but noted that other trends, such as positive COVID-19 tests as a percentage of the overall number of tests as well as the number of hospitalizations, have remained "stable."
In response to a question about whether he would consider opening the state on a regional basis, Cooper responded that, "If we are able to move into Phase Two this week, there would not be a need for a regional or county-by-county approach." He did add, however, that if Phase Two was delayed and did not go into effect on May 22, the option of easing restrictions on a regional basis would be on the table.
Cooper and Cohen also responded angrily when asked about reports that people are having COVID-19 parties in order to spread the infection and build herd immunity.
"That is completely irresponsible and completely unacceptable," Cooper snapped.
"We implore people not to do that," added Cohen, her voice rising. "We are nowhere near herd immunity. A party will not help us."