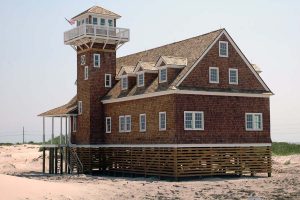 The Oregon Inlet Lifesaving Station may get an added boost in Governor Roy Cooper's draft budget.
The governor's proposal for FY 2022-2023 includes $600,000 to finish the rehab on the building and move it to a more secure place.
The lifesaving station has been tagged for removal to a new resting place for more than 10 years, but the delay of the replacement of Bonner Bridge has held up decision making. The 1897 station, which is listed on the National Register of Historic Places, can be seen when traveling south on the new bridge.
The station was abandoned more than 30 years ago and the weather wasn't kind to it. In 2008, the sand reached up to the eaves of the building and work was done to lift the structure so that the sand could flow under it. At that time, the old added bunkhouse was removed and the outside of the buidling was renovated. The concrete flooring was replaced with wood. The three-story tower also was replaced.
The property was owned by Jesse Etheridge, who gave the land to the lifesaving service to use for the station. A condition of the land transfer was that if the use of the property ever changed from the lifesaving station, the land was to revert back to his ownership.
Etheridge married a woman in Virginia and moved there to live with her. When he died, they had no children so her heirs are the ones who should have inherited the land. Her heirs lived in the west, however, didn't know about the inheritance and never claimed the land.
The senior U.S. Representative Walter B. Jones who then chaired the Merchant Marine and Fisheries panel, deeded the land from the federal government to Dare County, which in turn gave it to the state.