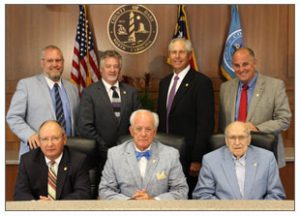 Beginning Monday, June 3, the Dare County Board of Commissioners' meetings will be livestreamed and broadcast live on Channel 191 (CurrentTV Government) for local Spectrum TV subscribers. A link to the livestream will be available at www.darenc.com and may be viewed on any device. Livestreaming of meetings is an additional effort being made by the Board of Commissioners to provide full transparency to citizens.
"With the unique geography of Dare County and our large population of nonresident property owners, livestreaming the meetings will make Dare County government more accessible to everyone. This board is committed to providing open access to government business and deliberations. We are excited to increase transparency and offer this service to our residents and property owners," said Board of Commissioners Chairman Bob Woodard.
The meeting on Monday, June 3 begins at 9 a.m. The Board will receive an update about plans to upgrade the Dare County Regional Airport and the associated economic impact on the community. In addition, a public hearing will be held at 10:00 a.m. to receive public input regarding the Manager's Proposed Budget for 2020.
The full agenda for the June 3 meeting can be accessed at www.darenc.com/boc along with agendas and videos from past meetings. Video of past Commissioners' meetings and Town Board meetings can be accessed on demand at www.currentTV.org. The County's proposed 2020 budget is available at www.darenc.com/budget.