In a warning that has become familiar to North Carolina residents, NC Health and Human Services (NCHHS) Secretary Mandy Cohen stated yesterday that the "trends" tracking the spread of the COVID-19 virus in the state "are worrisome."
But what was different about the Dec. 1 media briefing by Cohen and Governor Roy Cooper was the emphasis on a different and far more positive subject related to the virus — the looming start of a vaccination program in the state. Cooper described the "newfound hope" in "promising vaccines…safe effective vaccines [that] should be available soon" and which will be free of charge for everyone, regardless of whether an individual has health insurance.
"Fortunately for us, we are just a few weeks away from having a new tool we have all been waiting for," added Cohen. Explaining that there will initially be a very limited supply of vaccine that could arrive before Christmas, Cohen outlined the state's "prioritization plan" for who would get the early doses.
Initially, the vaccine will be earmarked for hospitals and those high-risk healthcare workers dealing directly with COVID-19. After that, the vaccine would go to both workers and staff at long-term care facilities like nursing homes. And perhaps by January, the plan would move next to include high-risk adults with two or more underlying conditions that would put them at risk for severe COVID illness.
And while holding out hope that a potentially game-changing vaccine will arrive soon, Cohen added that such a vaccine "is an extraordinary achievement." But it is not "a quick fix."
And as if to remind people of the seriousness of the challenge at hand, Cohen said that in the past 10 years, a total of 1,500 people had died of North Carolina from the flu. In contrast, she noted, COVID-19 has taken the lives of more than three times that many people in just nine months.
Dare County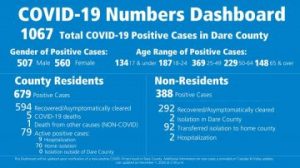 Update: Dare County also reported on Dec. 1 that a county resident, someone in their 70s, died on Nov. 30 due to complications from COVID-19. That marks the fifth COVID-19 fatality in the county.  The Dare County Department of Health and Human Services (DCHHS) reported 8 new cases of COVID-19 on Dec. 1, bringing the total number of cases reported here since the outset of the pandemic to 1,067. Seven of the newest cases involve Dare County residents.
In an update also published on Dec. 1, The DCHHS reported these findings after reviewing cases over the past few weeks.
The primary way people are acquiring the virus is by close contact with an infected individual. Indeed, 75% of the new cases in November acquired the virus by direct contact. These cases have been linked to dinner parties, church and youth group gatherings, weddings, funerals, birthday parties, work parties, lunch dates and sleepovers.
The majority (91%) of individuals infected with COVID-19 are symptomatic.
The majority (75%) of new cases are residents. The spread of the virus is not indicating tracking from non-resident to resident or vice versa. The virus is predominantly spreading between people who know each well, from friends to friends and family members to family members.
While the majority of individuals experience only mild to moderate symptoms, the number of individuals requiring medical attention related to COVID-19 complications has been increasing. On our dashboard we report hospitalizations. We also remain in close communication with the Outer Banks Hospital regarding individuals presenting to the emergency department with COVID like symptoms as well as individuals who go to the emergency department because of worsening symptoms related to COVID-19. Both of these numbers have been increasing over the past few weeks. The hospital reported that this past week they saw the highest number of COVID related returns and admit/transfers since tracking started.
In addition, the update reported that for the past week, the percentage of positive tests to total tests in Dare County increased to 7.17%
Today's statewide NC coronavirus numbers
Total reported NC cases – 367,395
New cases reported today – 2,883
Reported deaths – 5,284
Currently hospitalized – 2,033
Suspected COVID-19 cases hospitalized in past 24 hours – 241 (down 19 from yesterday)
Confirmed COVID-19 case hospitalized in past 24 hours – 206 (down 24 from yesterday)
Adults in ICU with COVID-19 – 485 (up 28 from yesterday)
Patients presumed to be recovered – 315,979
Reported cases in Dare, Currituck and Hyde Counties – 1,585 (Dare 1,067, Currituck 332, Hyde 186)
Completed tests – 5,322,548
Daily percent positive tests – 10.2%
Note: Every morning, the NC Department of Health and Human Services posts updates o number of reported cases of coronavirus. That number reflects positive results from all tests, including the NC State Laboratory of Public Health and all hospital and commercial labs. There may be other reports, from the media and elsewhere, that will include different numbers during a given day, but this is an effective way of tracking numbers from the same source on a day-to-day basis.