Dare Board okays $814K in Tourism Impact Grants, including $342,640 for Hatteras Pathway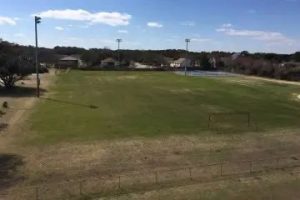 Money earmarked for seven different projects
Meeting on the morning of Dec. 7, the Dare County Board of Commissioners approved the expenditure of $814,640 in Tourism Impact Grant (TIG) Awards earmarked for seven projects ranging from building restrooms for the Manteo Town Common Project to range improvements at the Outer Banks Gun Club.
As explained by Outer Banks Visitors Bureau Executive Director Lee Nettle, who appeared before the commissioners on Dec. 7 to request their consent for the expenditures, the TIG awards are designed to fund services needed that are needed because of the impact of tourism. After a few minutes of discussion, the appropriation won unanimous approval.
The $814,640 includes:
$342,640 for the Hatteras Village Multi-Modal Pathway. The funds will help construct a 3.19-mile, five-foot wide loop along Highway 12 and Eagle Pass Road through Hatteras Village.
$200,000 for Meekins Field Community Park in Kill Devil Hills. The park will include two multi-use playing fields, playground equipment, three picnic shelters, restroom facilities, splash pad, walking paths, tennis courts, an art wall, expanded parking and upgraded lighting
$150,000 for Manteo Town Common, Phase II. This phase involves the construction of restrooms, informational kiosks, seating and other amenities including Wi-Fi service.
$40,000 for the Sidewalk at Admiral Street in Nags Head. This project will build a safe pedestrian connection along the north side of Admiral Street by the MP 10.5 Shoppes Access from the traffic light at Highway 158 to Wrightsville Avenue.
$30,000 for the Nags Head Skate Park. This involves the design and installation of new skate park elements on the western half of the skate park to better incorporate functional public art and accommodate all abilities and ages.
$40,000 for Environmental Improvements to the Baum Bridge boating area. This will replace part of the parking lot as Pervious Concrete and install Pervious Geogrid pavement area to protect and restore water quality and minimize the negative impacts of the boating access on the waters of the Roanoke Sound.
$12,000 for the Outer Banks Gun Club for range improvements. This will help replace security cameras; install a parking area to help avoid parking on the soft grass or muddy areas; install a concrete pad on the new Trap field; and install a carport structure.
The Dec. 7 meeting was also the occasion for the swearing-in of the four incumbents who were returned to the board this election season: Bob Woodard and Steve House, who both faced opposition, and Danny Couch and Wally Overman, who were unopposed.  Woodard and Overman were then quickly, and without opposition, re-elected as board chair and vice-chair, respectively.
In his remarks at the opening of the meeting, Woodard — who along with the other commissioners was wearing a mask on the podium — made an impassioned argument for people to follow the mask-wearing, social-distancing and hand-washing guidelines in light of the current spike of COVID-19.
Noting that the percentage of positive COVID-19 tests in the week ending on Friday, Dec. 4 had reached 7.17% and that about one-third of all the Dare County cases since March were reported in November, Woodard stated that, "I once again plead with everyone out therein the community to please do your part."