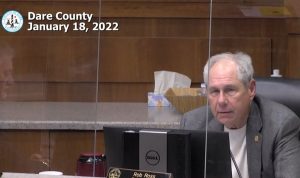 During its Jan. 18 meeting, the Dare County Board of Commissioners gave the county's planning staff the green light to begin crafting a zoning text amendment that would allow accessory dwelling units (ADUs) in more zoning districts of unincorporated Dare County than currently allowed.
An ADU is a secondary, smaller dwelling either attached or detached from a principal dwelling unit. ADUs are independent units in the sense that they have full cooking, sleeping and living areas, with a stove or cooktop and associated electrical service.
County officials have said that the move would hopefully encourage the creation more affordable housing for the area's workforce. Currently, ADUs are only permitted in areas of unincorporated Dare that allow duplex and multifamily structures, but not in the more restrictive single-family districts.
The quest to create more workforce and essential housing in Dare County has been difficult. And the county's effort to build a 120-unit housing development on Bowsertown Rd. recently hit a major snag when the Town of Manteo rejected its request to connect the project with the town's wastewater system.
In the past, one reason ADUs haven't been allowed in the single-family districts is the potential conflict it creates in subdivisions with homeowners' associations that fall within the unincorporated areas. However, in light of the limited inventory of affordable housing in Dare County, Board Vice Chairman Wally Overman brought the possibility up to be reconsidered
"We recognize there have been some conversations about covenants [in some neighborhoods] prohibiting [ADUs]," County Manager Bobby Outten said. "From the county perspective alone, we can't regulate based on restrictive covenants…if it complies with our zoning, then by law we have to grant the permit. But if there's a covenant issue, that's between the property owners' association and the homeowner."
Outten also acknowledged at the meeting that changing the zoning ordinance to allow ADUs in most of the county's zoning districts isn't a minor task. "Before we start engaging in amending our ordinances to the scale we are going to have to…we want to be sure that there's a comfort level," he said.
He also pointed out that enforcement is a key element in any change. "Our challenge is not how to regulate it…our challenge is how do we enforce it…That's a much more difficult problem," he said. "If we aren't able to enforce it, then we've created a problem instead of creating a solution."
Judging by their comments, the commissioners appeared to be on board with a more expansive amendment.
"We've been working toward this very moment for some time," asserted Commissioner Jim Tobin.
"The housing issue is all-hands-on-deck," added Commissioner Rob Ross. "I don't see a reason not to."
Commissioner Ervin Bateman and other commissioners said they hoped that any ordinance would ensure that the ADUs aren't all used as vacation units, such as an Airbnb or VRBO.
"We've got to find some way to regulate or put this in, so this is for long-term [housing]," Bateman asserted, adding that on his road in Kitty Hawk, there are four brand new Airbnbs. "Everyone is jumping on it. We're not creating essential housing for our workers if we're potentially creating Airbnbs all over the place."