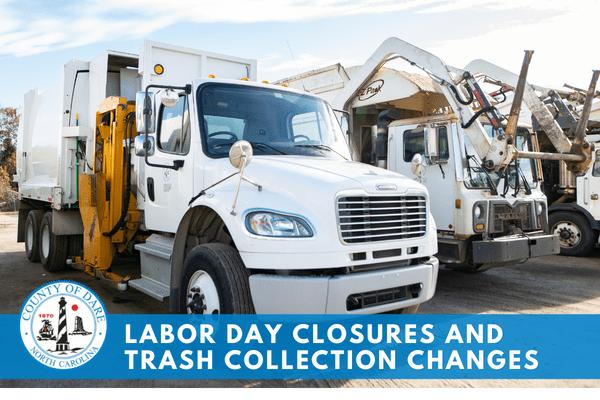 Dare County offices will be closed on Monday, September 5, 2022, in observance of Labor Day. This includes the Manteo Recycle Yard, the Dare County C&D Landfill, and the Buxton Transfer Station.
All Dare County offices and facilities will reopen at 8:30 a.m. on Tuesday, September 6, 2022.
Dare County Public Works, which provides trash collection for the unincorporated areas of Dare County including Hatteras Island, has announced that trash collection will operate on its normal schedule on Monday, September 5, 2022. 
The Town of Kitty Hawk's Saturday residential summer trash collection for the east side (ocean side) of the bypass will continue through Labor Day weekend and then conclude on Saturday, September 10, 2022.
For more information or to contact the Dare County Public Works Department, click here.