Dare County asks for community's input on Stormwater Master Plan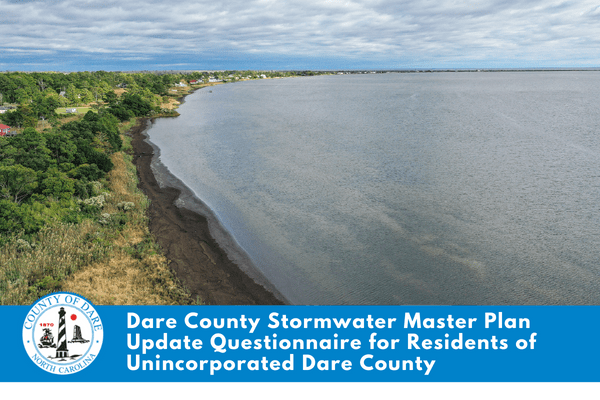 Dare County is currently updating its Stormwater Master Plan, a document intended to identify critical project areas and potential mitigation measures to further guide resiliency efforts and reduce future environmental impacts in the unincorporated areas of Dare County.
If you are a resident or property owner in any of the following areas within Dare County, your feedback is appreciated via the questionnaire below:
Hatteras Island
(Rodanthe, Waves, Salvo, Avon, Buxton, Frisco, and Hatteras Village)
Dare County Mainland
(East Lake, Manns Harbor, and Stumpy Point)
Unincorporated areas of Roanoke Island
Martin's Point
Colington
The data gathered from questionnaire responses will help to shape the development and goals of the Stormwater Master Plan.
Click here to complete the questionnaire.
In addition to this questionnaire, Dare County will conduct public meetings for in-person feedback at two locations at the end of September.
Buxton: Wednesday, September 28, 2022, at 6 p.m. at the Fessenden Center Annex, 47013 Buxton Back Road, Buxton, NC 27920.
Manteo: Thursday, September 29, 2022, at 6 p.m. at the Dare County Administrative Building, 954 Marshall C. Collins Dr., Manteo, NC 27954