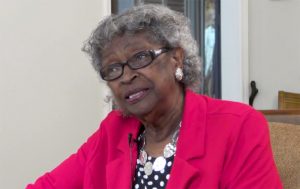 Dare County Board of Commissioners Chairman Bob Woodard has released the following statement on the passing of Virginia Tillett, a former Dare County Commissioner, professional educator and Outer Banks community leader who served the residents and visitors of Dare County as an elected official for more than 30 years.
"Miss Virginia touched my life in a memorable way, as she did so many others in our community," said Woodard. "She was a sweet woman who cherished her family and loved Dare County in a special way. She will long be remembered for the passionate way she promoted education and for the life-changing impact she has had on generations of students and so many others in Dare County. The Dare County Board of Commissioners fondly remembers with gratitude Miss Virginia's life of dedicated service to our community."
In 2002, Tillett was elected to the Dare County Board of Commissioners, where she served as a commissioner for 12 years. Prior to being elected to the Dare County Board of Commissioners, Tillett served in the positions of both chair and vice chair on the Dare County Board of Education for 20 years.
Tillett was the recipient of numerous awards over the past several decades, including the Dare County Outstanding Citizen of the Year award, the Outer Banks Chamber of Commerce's Citizen of the Year award and the prestigious Order of the Long Leaf Pine Award.
Most recently, Tillett was recognized for her extraordinary accomplishments and dedication to service and leadership by the North Carolina Black Alliance, which presented her with a 2021 TrailBlazer Award at its virtual summit on April 23, 2021.
In May 2021, Current TV released a video honoring the life and many contributions of Miss Virginia, an Outer Banks native and longtime community leader. To view the video, "Virginia Tillett — A Dare County Trailblazer," and learn more about Virginia Tillett's tireless service to her community, click here.