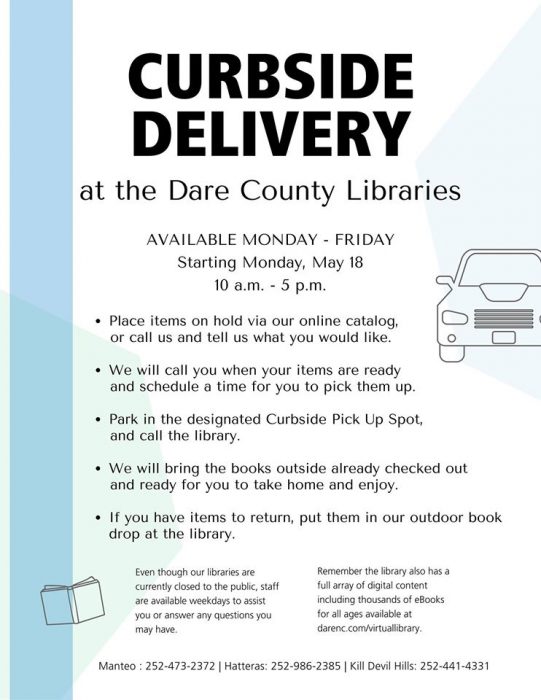 Dare County Libraries announced that they will begin offering curbside pick-up by appointment beginning on Monday, May 18.
Library customers can request materials for curbside pick-up over the phone, or by using the online catalog. When requested materials arrive, library staff will contact customers to arrange a convenient time to come and get them using no-staff-contact, curbside pick-up.
HOW TO REQUEST MATERIALS BY PHONE:
To request materials by phone, you can call your library and request particular titles, authors, genres, or subjects. You can also request children's materials by age, or by reading interest or level.
The phone number for the Hatteras Island library, located at 57709 N.C.  Highway 12 in Hatteras village, is (252) 986-2385.
HOW TO REQUEST MATERIALS ONLINE
Visit the website https://www.earlibrary.org/.
You can place a hold to request any item, however, materials will arrive much faster if they are listed as "Available" in the online catalog. Also, you will get materials faster if they are owned by your "home" library, rather than a different library location.
A courier will be running between library locations, however, following CDC guidance, the libraries will be quarantining materials between users for more than 72 hours.
For more information, please call your Dare County Library location during weekday hours.