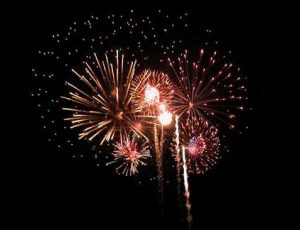 With COVID-19 restrictions on masks and social gatherings either loosened or eliminated entirely, many of the Independence Day events and celebrations throughout Dare County that were canceled in 2020 due to the pandemic will officially resume this summer.
Due to the number of events being planned—ranging from professional fireworks shows to backyard barbecues and block party celebrations—Dare County officials want to remind residents and visitors of the rules and regulations that are in effect regarding fireworks in the Outer Banks community.
Although the vast majority of COVID-19 restrictions have been lifted in North Carolina, many people are still tempted to shoot off their own fireworks rather than attending a professional fireworks display; however, leaving the patriotic pyrotechnics to the professionals is the safest option for everyone.
The Outer Banks frequently experiences strong breezes as well as the occasional high winds, and many of the beach cottages and homes in the area contain wooden shingles, wooden decks and wooden walkways that lead from the beach to the property.
Wind, wood, dry dune grass and fireworks are a dangerous combination any time of year—and the Fourth of July is no exception. To ensure the safety of yourself, your family and your property this Fourth of July, plan on staying safe and heading to one of the local fireworks shows that is being put on by professionals.
Local Outer Banks Fireworks Shows — Sunday, July 4, 2021
Downtown Manteo Waterfront — 9:30 p.m.
Avalon Pier in Kill Devil Hills — 8 p.m. to 9:30 p.m.
Nags Head Fishing Pier — 9:25 p.m. to 10 p.m.
Avon Fishing Pier — 9 p.m.
All fireworks are illegal in the following areas:
Town of Duck
Town of Southern Shores
Town of Nags Head
Town of Manteo
Hatteras Island (Rodanthe, Waves, Salvo, Avon, Buxton, Frisco and Hatteras Village)
Some additional areas of unincorporated Dare County
Illegal fireworks in the state of North Carolina include devices that leave the ground—such as bottle rockets and mortars—and have a report or "bang." Examples of these include firecrackers and M80s. These types of devices are not legally available to purchase or use in North Carolina.
The use of legal fireworks is allowed in the towns of Kitty Hawk and Kill Devil Hills, as well as Dare County's unincorporated areas of Roanoke Island and the mainland villages within Dare County.
Pyrotechnics, which are commonly known as "safe and sane" fireworks, are the only type of fireworks that are legally allowed in areas of North Carolina where local ordinances don't prohibit their use entirely. These devices include caps, snakes and glow worms, smoke devices, trick noise-makers, sparklers and other sparkling devices, such as fountains.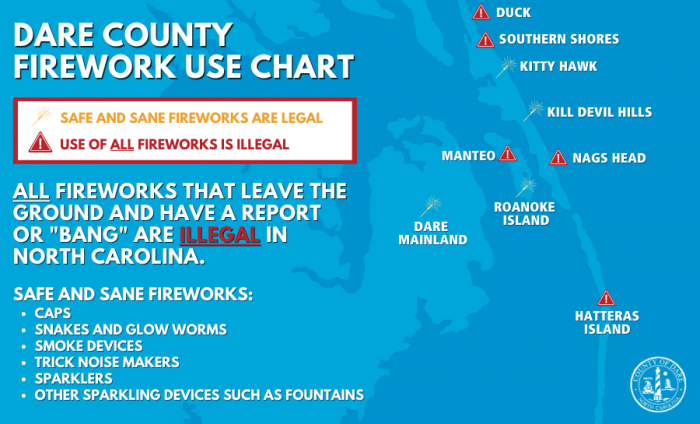 Structure Fires, Vehicle Fires and Property Damage Caused by Consumer Fireworks
There are many inherent dangers with fireworks. The National Fire Protection Association reports that fireworks caused an estimated 19,500 fires in 2018, including 1,900 structure fires, 500 vehicle fires, and 17,100 outside and other fires. These fires caused $105 million in direct property damage. These devices also cause nearly 9,100 injuries each year.
Consumer Fireworks-Related Injuries and Emergency Room Treatments
According to the Consumer Product Safety Commission's annual report on fireworks-related deaths, emergency department-treated injuries and enforcement activities during 2020:
Fireworks were involved with an estimated 15,600 injuries that were treated in U.S. hospital emergency departments during 2020.
An estimated 10,300 fireworks-related injuries (or 66 percent of the total estimated fireworks related injuries in 2020) were treated in U.S. hospital emergency departments between June 21, 2020 and July 21, 2020 alone.
Adults ages 25-44 experienced about 35 percent of the estimated injuries in 2020, and children younger than 15 years of age accounted for 18 percent of the estimated injuries.
Young adults ages 20-24 had the highest estimated rate of emergency department treated, fireworks-related injuries (17 injuries per 100,000 people) in 2020. This number is approximately three times the rate of injury for the same group in 2019, and is driven by an increase in injuries among females.
Older teens, ages 15-19, had the second-highest estimated rate (6.1 injuries per 100,000 people).
In 2020, there were an estimated 1,600 emergency department-treated injuries associated with firecrackers and 900 with sparklers.
Safety Tips for Legal Consumer Fireworks
If you do decide to use legal consumer fireworks in an area where allowed, here are a few tips to keep you safe:
Don't allow children to play with or light the devices.
Light only one device at a time and quickly move away to enjoy the show.
Never place any part of your body overtop the device.
Have a bucket of water or water hose readily available where you are lighting the fireworks in case a fire starts.
Do not attempt to relight a device that does not ignite and properly fire. Instead, soak it in water before properly disposing of it.
Thoroughly soak all devices prior to disposing of them.
Before lighting any fireworks—and to find out about each individual town or village's ordinances and specific rules and regulations— visit www.DareNC.com/Fireworks.