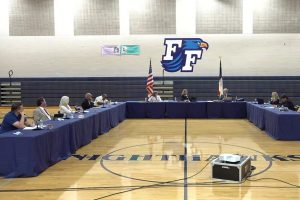 The Dare County Board of Education, at its Aug. 5 special meeting, voted by a 6-to-1 margin to allow parental choice when it comes to wearing face coverings beginning on Aug. 23, the first day of school. By the same margin, the board also voted to allow staff to choose whether to wear face coverings.
Board Member Joe Tauber made the motion with David Twiddy casting a second. Board Member Margaret Lawler cast the sole dissenting vote.  Masks will be required, however, when traveling on school buses.
The board also unanimously voted to provide families and students the option of virtual learning through at least the first semester, with the requirement that those who opt in stay throughout that period. School administrators noted that an email would be sent to parents early next week for the virtual school registration.
The Aug. 5 meeting came against the backdrop of a surge of COVID cases nationally, in North Carolina and in Dare County, one driven by the highly contagious Delta variant and a substantial portion of the population that is unvaccinated.
At times, Board Chair Mary Ellon Balance had to stop the meeting to quiet a boisterous crowd that was there largely to oppose mandatory masks in schools. At one point she told the audience that members were going to have to leave the meeting because of the constant disruptions, to which there was shouting of "No, no."
In selecting the parental choice option, the board rejected the recommendation of mandatory masking made by Dare County Schools Superintendent John Farrelly and Dare County Department of Health and Human Services Director Sheila Davies.  The CDC and North Carolina Governor Roy Cooper have also recommended that students and staff wear face coverings in school regardless of vaccination status
Farrelly asserted that, "The path to have the highest number of kids who would be in school is universal masking. Because if all the kids are wearing masks, very little would be quarantined."
In opting for parental choice, the Dare Board followed in the footsteps of the Currituck Board of Education, which selected the same parental choice option last week. The Dare Board's action also follows the July 29 release of a survey showing that 63% of the district's parents and 60% of the school staff supported the parental choice option.
Conversely, the Hyde County Schools announced on Aug. 4 that face coverings will be required in that district's schools.
In other actions at the Aug. 5 meeting, the board also voted against a number of recommendations in the Safer Schools NC Public Health Toolkit, including promoting COVID-19 vaccines, enforcing social distancing on school buses, offering COVID testing options on Dare County Schools campuses, and collecting vaccination data of staff and students.
At the same time, temperature checks at school building entrances will continue in the new school year, the board decided, but it voted to do away with daily screening questions.