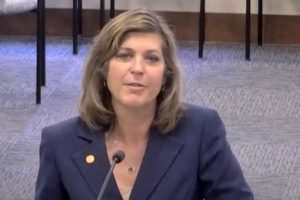 Had worked in county planning since 1988
After more than three decades helping to shape the course of development in unincorporated Dare County, Donna Creef will retire from her post as the Dare County Planning Director on Jan. 31.
Creef's career with Dare County began in 1988, shortly after she graduated from East Carolina University. She took on the position as assistant planner in the planning department at a time when a phone call from Manteo to Hatteras was a long-distance charge. The Cape Hatteras Lighthouse still sat in its original location and the land that now makes up the Town of Duck was still unincorporated Dare County.
At the time, there were areas of the county that still didn't have zoning maps and the county was reviewing a steady stream of subdivision plat reviews for Hatteras Island villages. In the early 1990s, the county was challenging its first offshore drilling proposal by Mobil Oil, and even back then, was campaigning for the Mid-Currituck Bridge, which still hasn't come to fruition.
"It was a very busy time," Creef recalls, noting that one of the first big projects she worked on was to get toll-free calling down to Hatteras.
Fast forward 22 years to when Creef took on the role as planning director in 2010 after longtime director Ray Sturza retired. Since then, she's led the planning department through a changing landscape in Dare County. And Creef's view now is that the county, which includes the unincorporated areas and the municipalities, has struck a balance when it comes to development.
"We have an abundance of federal and public land [80 percent] in Dare County that's going to remain in that public ownership, so we have to balance the needs of the private sector on that twenty percent that we have left.  So it's important that we do so in a manner that balances economics with the protection of those resources," Creef stated.
Overdevelopment, in terms of the overall landmass that makes up Dare County, is unlikely to happen because of that federal ownership, Creef said. "So being able to address the conflict of interest – the private sector and public sector needs on that 20 percent — that's the challenge and I think we've done a good job. I don't think if we hadn't done a good job that Dare County would be this magical place that it is."
On the topic of large vacation homes, Creef said that while other coastal areas have large rental properties, they also have high-rise developments that zoning ordinances in Dare County and its local municipalities don't allow.
"I've sat through lots of public hearings in thirty-three years where people say we are going to end up like Myrtle Beach or we're going to end up like Virginia Beach.  And no, I don't think we are," she said.
Along with height limits, Creef said the responsiveness of public officials in a small communities is an asset when it comes to development. "You're still able to reach out to your local elected officials to where it gets real, you can effectuate that change, whereas sometimes in bigger cities, that's not the case," she said.
Creef said one of the biggest challenges she has faced during her tenure is storm recovery and helping residents whose homes have flooded. One of the accomplishments she is most proud of is overseeing the FEMA community rating system over the years. Under her direction, the county implemented floodplain management practices that exceed the requirements of the National Flood Insurance Program. That implementation translated into an additional 10 percent reduction in flood insurance rates to property owners.
As far as her hope when it comes to future development in Dare County, Creef said that much of the groundwork has been laid because of the zoning that is now in place.
"I think that it's not going to be so much new development that has to be addressed, but how we're going to protect what development is out there from the natural hazards, the economic forces that we have to deal with…and just making sure that we have this quality of life that makes this such a desirable place to live."
As Creef begins to pack up her office in anticipation of her last day of work on Jan. 31 and reflects on her time with the county, she said she's most grateful for the people she's worked with over the years, as well as those in the community. "I've come into contact with a lot of really good people in the county and I think that is the most positive thing of all," she said.