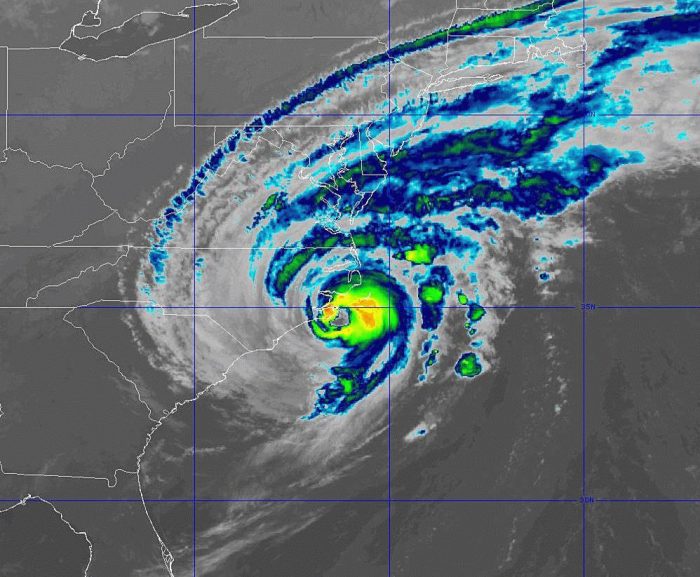 As of 5 a.m. on Friday, the center of the eye of Hurricane Dorian was located approximately 25 miles east of Cape Lookout, and about 55 miles southwest of Cape Hatteras.
Dorian is moving northeast 14 mph, with maximum sustained winds of 90 mph and this general motion with an increase in forward speed is expected through Saturday.  On the forecast track, the center of Dorian will move near or over Hatteras and Ocracoke islands during the next several hours.
There have been several reports in eastern North Carolina of sustained tropical-storm-force winds and hurricane-force gusts, with the strongest winds being reported in the northern eyewall. Hurricane-force winds extend outward up to 45 miles (75 km) from the center and tropical-storm-force winds extend outward up to 220 miles (350 km).
A NOAA weather station at Cape Lookout, North Carolina, located inside the western eyewall of Dorian, has reported sustained hurricane-force winds of 74 mph (119 km/h) and a gust to 94 mph (152 km/h).
As of 5 a.m., Hatteras Island residents reported having power, however winds had started to pick up, particularly in the southern portions of Hatteras Island and Ocracoke Island.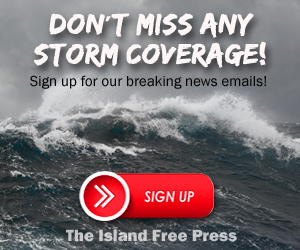 4-7 feet of storm surge continues to be forecast for Hatteras and Ocracoke islands with very rapid water level rise on the Pamlico Sound as the center of the storm passes on Friday. Initial storm surge impacts will be along the oceanside, especially during periods of high tide. The next high tide is at approximately 2:30 p.m. for Hatteras Island. Life-threatening storm surge inundation is expected, and N.C. Highway 12 may become impassable.
The worst conditions for the Outer Banks for soundside flooding are forecast for Friday.
Storm surge estimates are fluid, and the public can keep track of any changes for their specific village or neighborhood via the interactive National Hurricane Center's Storm Surge Inundation Map.
Up to 15 inches of localized rain during the storm is possible for Eastern N.C., including the Outer Banks. Flash flood risk is expected to be at its highest through Friday morning, with rain rates of more than 2 inches per hour at times.