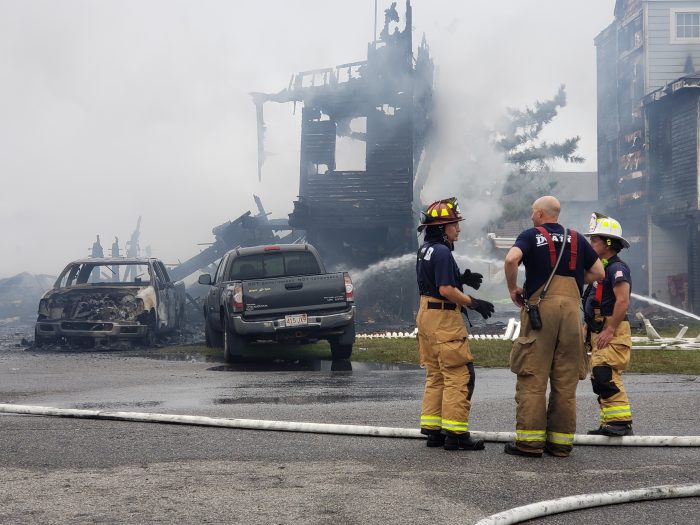 Four people are confirmed to have died in the large structure fire that broke out in the early morning hours on Friday, Oct. 23, 2020, in Buxton, per an update from Dare County Emergency Management.
"Thoughts and prayers are with all who have been impacted by this tragic fire, especially those that lost loved ones," said Drew Pearson, Dare County Emergency Management Director.  "We thank all those that answered the call, from the 911 call takers to each and every first responder, numerous volunteers and the fire investigators for their tireless efforts."
Names of the deceased are being withheld, pending notification of their next of kin.
Buxton Volunteer Fire Department assisted by Hatteras and Frisco Volunteer Fire Departments initially responded to reports of visible flames coming from a residence located at 46110 Cape Hatteras Lane shortly after 4 a.m. on Friday.
Following the initial response, a second alarm was sounded, and crews from the Avon Volunteer Fire Department also responded.
Dare County EMS, the Dare County Sheriff's Office, Hatteras Island Rescue, Kill Devil Hills Fire Marshal, and the American Red Cross were also on scene to assist.
The fire caused severe damage to neighboring residences on Cape Hatteras Lane.
Investigators from the State Bureau of Investigation, Office of the State Fire Marshal, the Dare County Sheriff's Office and the Dare County Fire Marshal assisted by Buxton firefighters continue to investigate the cause of the fire. Updates will be provided by the Dare County Fire Marshal's office as additional information becomes available.