Gov. Roy Cooper is expected to announce Wednesday that North Carolina will enter the second phase of easing restrictions due to the COVID-19 pandemic at the end of this week.
That includes allowing restaurants, salons, barber shops, gyms and other businesses to reopen with limits on capacity to allow for social distancing, requirements for cleaning and hygiene and other recommendations.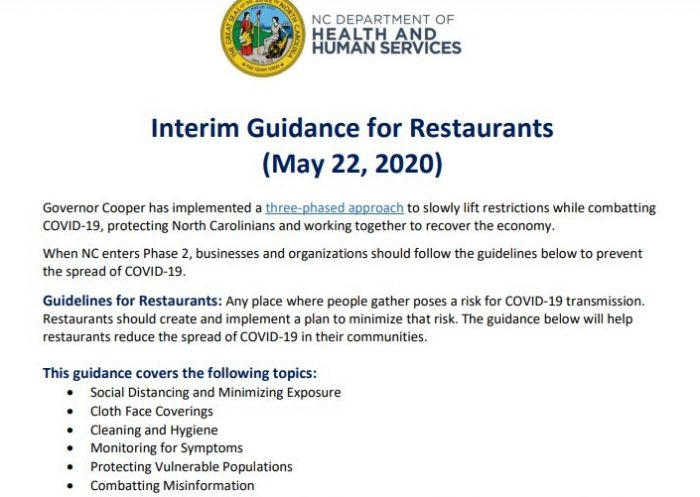 Cooper and other state officials are scheduled to hold a coronavirus briefing Wednesday at 5 p.m., where it is likely he will announce details about Phase Two that would begin on Friday.
The North Carolina Restaurant and Lodging Association provided its members late Tuesday with a list of guidelines from the N.C. Department of Health and Human Services detailing what eateries will have to do to seat customers beginning Friday.
"We have been in daily communication with the Governor's office as well as state and local public health officials. Many of our members have been part of developing these guidelines," said NCRLA president and CEO Lynn Minges.
Restaurants will be able to open their indoor dining area to no more than 50 percent of their fire code capacity, have to provide at least six feet of space between tables both indoors and outdoors.
They will also be required to conduct ongoing and routine cleaning of high-touch areas, promote frequent hand washing by staff and conduct daily symptom screenings of workers.
Face coverings for employees and customers are recommended, but not required according to the five-page document.
Details had not been released as of Tuesday evening about guidance for other businesses that are being allowed to open under phase two.