Grounded yacht on Ocracoke awaits a tow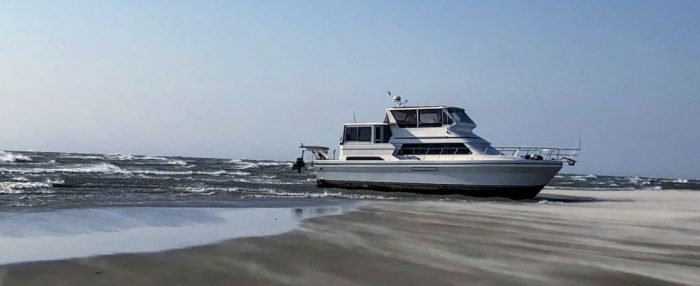 Scott Pumphrey is chillin' by himself today on his accidental waterfront hotel nestled temporarily on the Ocracoke beach.
Early Tuesday morning, he and his wife, Karen, ran aground on South Point in their 55-foot Novateck yacht while trying to navigate to Silver Lake via Ocracoke Inlet.
The couple, of Baltimore, Maryland, were sailing their newly acquired boat from Palm Coast, Florida, back home when they got into trouble on the ocean Monday night and missed the Ocracoke Inlet, a notoriously treacherous waterway, and ended up on South Point.
All day Tuesday, islanders ventured out to the beach to see the "shipwreck," as Pumphrey tried to line up a tow company to help dislodge him from the sand.
"They came yesterday," he said this morning in a phone call from his boat, "but they couldn't shoot the line far enough to get the line here. I had one engine going but it kept stalling on me."
High tide was around 1:30 this morning and he noticed that he was floating a bit and that the boat had moved several yards south of where it was yesterday.
So, the company went back to get a different boat and expects to return Thursday morning to try again. Once the boat is free, it will go to Morehead City, Pumphrey said.
After having recently purchased the boat built in 2001, the couple was returning home via the Intracoastal Waterway.
They were traveling for about a week going about 70 miles a day, he said. Monday was calm and, wanting to make better time, he left the Intracoastal at Morehead City and took to the ocean.
After the harrowing turn of events Monday night into Tuesday, Karen got off the boat Tuesday afternoon and is on her way back home.
"She was really scared," Pumphrey said. "She was not into this at all."
But, he said, he wasn't scared last night as the wind picked up in advance of another winter storm that's on its way up the coast. Winds today are 15 to 25 knots with gusts up to 30 knots, according to Weather Underground.
The storm is expected to impact the Outer Banks this weekend. A National Weather Service forecast predicts snowfall over much of eastern North Carolina Friday night into Saturday, though it is unknown if Ocracoke will see any snow. Thursday is forecast to be sunny and calmer.
"This boat was banging and rocking around," Pumphrey said about his overnight. "It was a little scary at first with the waves banging, but I slept like a baby."
He said he has plenty of battery juice with 20 batteries.
"If I run out of solar, I have nine days of batteries," he said.
A local is bringing him some small bottles of propane so that he can heat up some provisions because he's conserving the batteries.
Between talking to various folks, he's watching DVDs or trying to nap.
"Honestly, I'm enjoying it," he said. "The sunrise was beautiful. It's a beautiful place and everybody's been so helpful."

Scott Pumphrey took this video from his boat at daybreak Jan. 26, 2022.