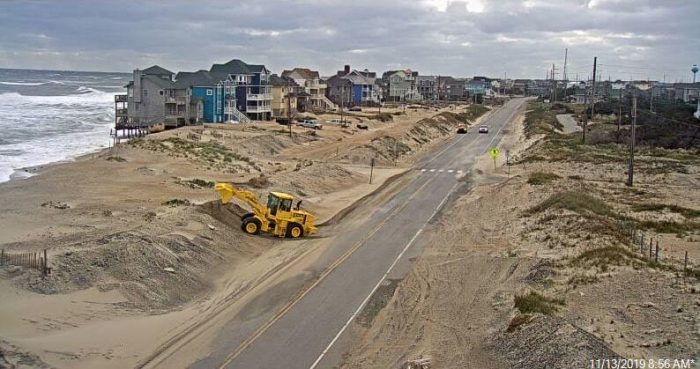 Gusty winds and chilly temperatures from a cold front that moved through the Outer Banks on Tuesday are expected to continue through Wednesday, however, N.C. Highway 12 remains passable throughout and no coastal flooding has been reported with this recent system.
Though sand and foam was reported on N.C. Highway 12 in multiple locations on Tuesday evening, and especially north of Rodanthe, North Carolina Department of Transportation (NCDOT) crews were spotted removing sand from the road as of Wednesday morning. Motorists are advised to use caution and watch for sand on the highway, and especially on Pea Island, just south of Oregon Inlet.
Strong northerly winds on Wednesday morning will begin to diminish by the afternoon. A Wind Advisory remains in effect through noon due to gusts up to 45 mph. High temperatures on Wednesday will be in the low to mid-40s along the Outer Banks, which is 15 to 20 degrees below normal.
A strong coastal low is expected to affect coastal N.C. this weekend, and confidence is increasing that the Outer Banks may see impacts from this approaching storm, per the National Weather Service Newport / Morehead City office. The Outer Banks will start feeling the impacts on Friday night, and impacts will peak on Saturday and gradually subside by Sunday night. Potential impacts for this weekend include rain, strong gusty winds, ocean overwash and beach erosion north of Cape Hatteras, as well as potential soundside coastal flooding for the southern regions Pamlico Sound. The Island Free Press will continue to post updates on the approaching weekend storm as they become available.
For more information on the local forecast, visit www.weather.gov/mhx for weather information, or the National Weather Service office in Newport / Morehead City's Facebook page at https://www.facebook.com/NWSMoreheadCity/.