Gypsy moth spraying to take place in Buxton on Wednesday, June 1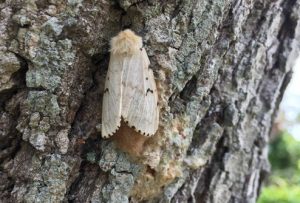 The North Carolina Department of Agriculture is conducting a Mating Disruption Treatment for the European Gypsy Moth today in Buxton, as well as other locales along the Outer Banks.
Treatments will be sprayed from two low flying aircraft in the areas of Duck/Southern Shores and in Buxton adjacent to the Cape Hatteras Lighthouse, per the Dare County Sheriff's Office. Treatments started around 7 a.m. and will continue until the work is complete.
Gypsy moths feed on the leaves of more than 300 different species of trees and shrubs, predominantly oaks and hardwoods. When areas become heavily infested, trees may be completely stripped of foliage, leaving yard trees and entire forests more susceptible to attacks from other pests.  Severe infestations often lead to tree death.
Gypsy moth caterpillars can also pose public health concerns for people with respiratory problems. In areas with high-density gypsy moth populations, the caterpillar hairs and droppings may cause severe allergic reactions.
NCDA&CS has addressed spot introductions of the gypsy moth across North Carolina since the 1970s.   For more information, including maps and a description of the proposed treatment area, go to www.ncagr.com/ or contact NCDA&CS toll-free at 800-206-9333. More immediate updates, including spray start dates, will be posted on Twitter at www.twitter.com/NCAgriculture.