Several hundred Hatteras Island residents, including members of the U.S. Coast Guard, National Park Service, Dare County EMS, and the island's volunteer fire departments, mourned the loss of four community members lost in the recent Buxton fire at a Friday evening vigil at the Cape Hatteras Lighthouse.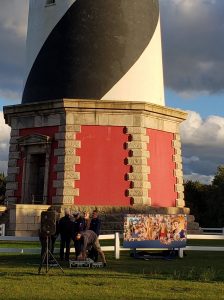 The Oct. 23 fire occurred in the Cottages at the Cape neighborhood, which was once part of military housing dating back to 1958, and is currently home to local residents and U.S. Coast Guard personnel. The four island residents lost in the fire were Trina Ramsey, age 35, daughters Zoey Ramsey, 7, and Emma Ramsey, 4, and Sarah Quigley, age 34. A tribute with a photo collage of all four victims was set up at the base of the lighthouse, and Trina's husband and father to Zoey and Emma spoke briefly and thanked the community for their outpouring of love and support.
Strong and gusty winds prevented the mourners from lighting candles as planned, however, the community honored and remembered the four victims through prayers and a moment of silence.
Since the fire, multiple GoFundMe pages have been launched to help support the victims and their loved ones, and the Cape Hatteras United Methodist Men (CHUMM) is also serving as a collection point for donations to the families of the fire victims.
The CHUMM website, 
https://www.hatterasmethodistmen.org/,
 has a link for credit card donations, and the organization can also accept checks and gift cards sent by mail to CHUMM, PO Box 1591, Buxton, NC, 27920.