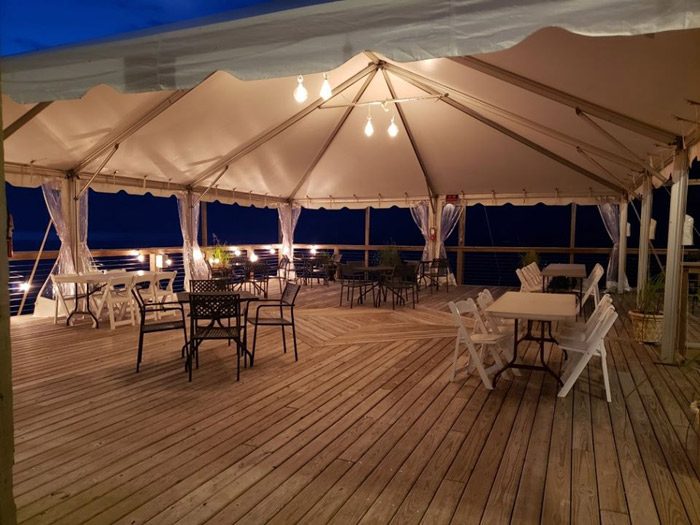 A number of restaurants on Hatteras Island that had temporarily closed amid concerns that staff members may have come in contact with COVID-19 have reopened, however, many are taking a step back and switching to take-out and / or outdoor dining services only.
More than a half dozen restaurants recently announced temporary closures in order to test all staff members as needed, due to an employee testing positive for COVID-19, or an employee being in recent contact with individuals who had tested positive. Though restaurants that are in the clear are reopening their doors again after receiving negative results, concerns about transmitting the virus indoors is often leading to an adjustment in services.
"It has been a LONG 7 Days and we are happy to announce that so far we have all been NEGATIVE," said Frisco Sandwich Company in a July 4 social media post. "We are still waiting on one last test but with the rest of our team members being cleared, we are sure that the last one will as well!! We have taken every measure to reopen on Monday, July 6th, with confidence for pickup only."
Tavern on 12 in Frisco shared similar good news on social media. "Over the past few days, we have had our staff test results trickling in. So far, all negative and we now (as of the last few hours) [have] enough people to open for take out," a Friday, July 3, social media update stated. "We will open and begin taking orders at 6 p.m… This will be take out service only as we ease back into things… Thank you for your continued support and understanding during this unprecedented time."
Café Pamlico in Buxton took similar measures, but has reopened with a new outdoor dining venue.
"We are pleased to announce that exclusionary staff testing results back this morning were negative; we are FINALLY open again for dinner," stated the restaurant in a July 2 update. "In the interest of the health and safety of our staff and guests, we took the opportunity of a few days closed to convert to all outdoor dining. All dinner and breakfast guests for the foreseeable future will be seated in our waterfront venue deck, now the most beautiful outdoor dining room on the Outer Banks!"
Dare County has seen a surge of recent COVID-19 cases, with roughly 80 new cases reported in the past two weeks alone. On Monday, June 22, the total number of cases in the county was 56. On Monday, July 7, that number had reached 136.
There have been a total of 74 resident COVID-19 cases and 56 non-resident cases since the first case was identified in Dare County in March.
Per the North Carolina Department of Health and Human Services, (which was last updated Sunday), at least 22 of 70 resident cases are from Hatteras Island. This includes 5 cases in Avon, 12 cases in Buxton, and 5 cases in Frisco.
The public is reminded to use safety precautions when dining out, and to wear asks whenever possible – such as when entering the restaurant, placing an order, or leaving the table to use the restroom.
As of Friday, June 26, face coverings are now required statewide in indoor and outdoor areas where maintaining a distance of more than 6 feet is difficult.