High risk of rip currents continues; N.C. Highway 12 remains clear and open for traffic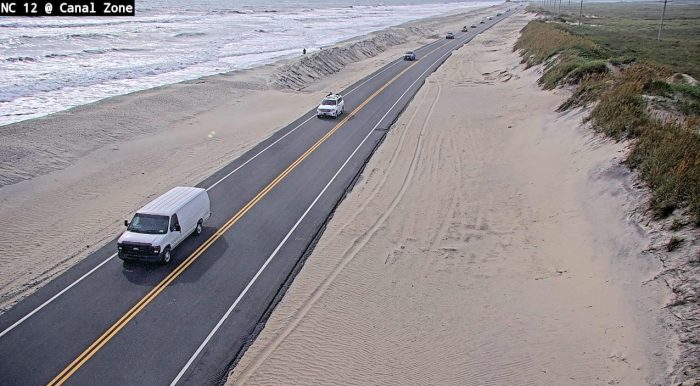 While a high risk of rip currents and large surf continues on Saturday due to distant Hurricane Earl, N.C. Highway 12 has not been impacted by ocean overwash, per an update from the North Carolina Department of Transportation (NCDOT).
N.C. Highway 12 is clear and open for all traffic as of Saturday morning at 9:30 a.m. A section of roadway in northern Rodanthe that is now closed and bypassed by the Jug Handle Bridge did experience some flooding on Saturday morning, but there was no impact to traffic. On Friday, the Cape Hatteras National Seashore advised visitors to avoid the beach between the north end of Rodanthe and South Shore Drive until early next week, when ocean conditions are expected to improve.
Overwash may be possible with the next several high tides, with the next high tide occurring at approximately 8:15 p.m. on Saturday night.
Hurricane Earl is expected to produce strong swells and an extended period of dangerous rip currents through the weekend, and the public is advised to stay out of the ocean while a high threat of rip currents is in effect.
The rip current risk will peak this weekend, and will likely continue into early next week.
For more information on the local forecast, visit www.weather.gov/mhx for general weather information, or the National Weather Service office in Newport / Morehead City's Facebook page at https://www.facebook.com/NWSMoreheadCity/.