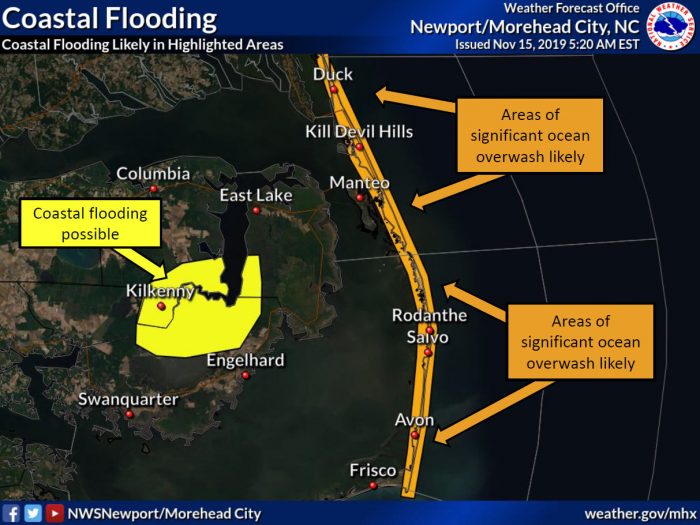 Confidence has increased that a slow-moving, strong, and potentially life-threatening coastal storm will impact the Outer Banks through this weekend into early next week, and a High Wind Warning, Storm Warning, and Coastal Flood Warning have been issued ahead of the storm, per a Friday morning briefing from the National Weather Service (NWS) Newport / Morehead City office.
Per the Friday morning NWS update, up to 10 inches of rain is now forecast for southern Hatteras Island, and peak wind gusts have increased to 66 mph.
There is the potential for storm surge inundation 2 to 4 feet above ground level, with locally higher amounts possible for oceanside areas of the Outer Banks, and areas adjacent to the southern Pamlico Sound. High surf, beach erosion, and ocean overwash are all forecast for the beaches of Hatteras and Ocracoke islands, with the most significant impacts expected north of Cape Hatteras.
Conditions will start to deteriorate on Friday evening, and impacts will peak on midday Saturday. The storm will start to subside on Sunday, but may affect the Outer Banks through early next week.
Persistent and strong north to northeast winds with gusts of 55-66 mph are possible along the coastline. Offshore peak wave heights of 15-25 ft. are also forecast with the coastal storm, as well as 6-10 inches of rain for Hatteras and Ocracoke islands.
According to NCDOT, depending on the storm surge and overwash, portions of N.C. Highway 12 could be closed for extended periods during high tide cycles over the next few days. As of 10 a.m. on Friday, N.C. Highway 12 was passable throughout.
Per Dare County Emergency Management, all residents, visitors, and property owners, and especially those in oceanfront areas and places prone to soundside flooding, are advised to take precautions now to protect property. Outdoor furnishings, trash cans, and any loose items should be properly secured.
Visitors should contact accommodations providers for updates on local conditions, monitor the storm and plan accordingly if travel is necessary.
Motorists should proceed with extreme caution this weekend and check road conditions before traveling, especially during periods of high tide. For information about current road conditions from the North Carolina Department of Transportation (NCDOT), visit drivenc.gov or dial 511. When dialing 511 on weekdays from 8:15 a.m. to 7:45 p.m., weekends from 8:15 a.m. to 4:45 p.m., callers speak directly with an operator who can answer traffic and travel-related questions. Overnight and during emergencies, travelers should go to DriveNC.gov for the latest travel information. For real-time travel information, visit DriveNC.gov or follow NCDOT on social media.
For more information on the local forecast, visit www.weather.gov/mhx for weather information, or the National Weather Service office in Newport / Morehead City's Facebook page at https://www.facebook.com/NWSMoreheadCity/.