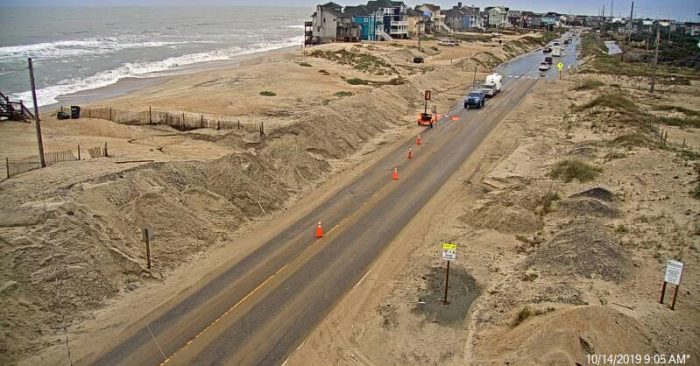 N.C. Highway 12 was passable throughout Hatteras Island on Monday morning, however, motorists should expect delays due to standing water and continual repair work that will lead to periodic lane closures, per a Monday update from the North Carolina Department of Transportation.
The majority of repairs are being conducted from Rodanthe to Oregon Inlet, where multiple dune breaches led to ocean overwash that closed the highway from Friday to 9:45 p.m. on Saturday night. NCDOT crews are repairing the dune at the S-curves region north of Rodanthe, and one lane will be closed during the repairs with short periods of both lanes being closed to allow for repairs to the dune to be completed.
Motorists are advised to use caution and to follow all temporary traffic control instructions. Keep alert to the movement of equipment and NCDOT workers in the area, and drive slowly, as saltwater can damage vehicles. Lingering sand and standing water was also reported in other areas of the island, including the towns of Avon, north Buxton, and northern Hatteras.
For information about current road conditions from the North Carolina Department of Transportation, visit drivenc.gov or dial 511. When dialing 511 on weekdays from 8:15 a.m. to 7:45 p.m., callers speak directly with an operator who can answer traffic and travel-related questions. Overnight and during emergencies, travelers should go to drivenc.gov for the latest travel information.