"Housing Crisis' Sparks Concern at Dare Board Meeting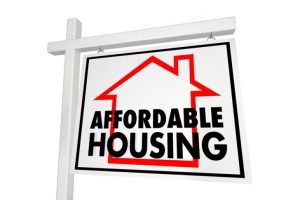 The Dare County Commissioners' decision this week to renew the agreement to pay the Outer Banks Chamber of Commerce $35,000 for economic development and diversification work became an occasion to raise alarm bells and a call to action about the county's daunting "housing crisis."
The lack of sufficient workforce housing has been one of the more prominent, if not the most prominent, public policy issue in the county for several years. And some frustration with the pace of progress seemed to bubble over at the Aug. 5 board meeting.
"Looking ahead to next year, our primary focus will be the housing crisis," declared Chamber President Karen Brown during a discussion at the meeting. "We've really got to start moving the needle, rather than just talking about it."
During that discussion, some housing horror stories were swapped. They were anecdotes about 10 people sharing one room or the beach nourishment worker whose only housing option was a trailer. Saying he had recently talked with young people staying on the Outer Banks for the summer about their living situations, Commissioner Rob Ross said he heard tales that would "curl your hair."
When the conversation began to focus on what was the greater need — housing for year-round workers or for seasonal workers desperately needed for tourist season — Chamber Board President Pat Broom said simply: "There needs to be more housing, period."
The Aug. 5 meeting took place against the somber backdrop of the two weekend massacres in El Paso, Texas and Dayton, Ohio that have taken 31 lives to date. And their ripple effects clearly spread to Dare County. Coincidentally or not, visitors to the commissioners meeting room that morning had to pass through a security check that included, for the first time, a metal detector.
Dare County Sheriff Doug Doughtie said that, "in this day and age," you can't be "too cautious. I believe anything can happen anywhere…You just don't know."
In a somber prayer at the outset of the meeting, Reverend Spottswood Graves said, "we pray for the people of Dayton, of El Paso, for the people of Sandy Hook and many other places." And Commissioner Chairman Bob Woodard, who also asked for a moment of silence, ticked off the casualty count in El Paso and Dayton, declaring, that, "this is happening way too often in our society, folks. It's very discouraging, very depressing."
After a power point presentation that included numerous elements of the OBX Chamber's work trying to foster economic development diversity, the conversation at the meeting turned largely to the housing problem and its harmful impacts on the local economy.
When Vice-Chair Wally Overman asked about how the chamber had spent the $35,000 already given to it by the county, Brown remarked that the priority for those funds was "certainly the housing crisis…the housing piece is where a lot of the money has been spent."
One key moment in that effort came back in June 2018 when then Chamber Board President Bob Peele made a presentation to the commissioners. He asked them to consider significant zoning changes — allowing accessory dwelling units and more multi-family structures and increasing dwelling densities per acre — as a way to address the county's affordable housing crunch and boost the economy.
Just four months later, in a swift response, the commissioners approved such measures to potentially create what they projected to be nearly 1,300 new housing units. But that hasn't exactly opened the floodgates.
During a progress report to the board this past April, Dare County Planning Director Donna Creef acknowledged that, "We have been moving slowly," And she noted that the two site plans that had been submitted and approved since the zoning changes were made were for cluster homes, both on Hatteras Island, for a total of nine structures.
Another factor complicating the drive for more housing is the state septic requirements that would need to be modified legislatively in order to allow Dare County to develop its own local standards. At the Aug. 5 meeting this week, Broom acknowledged that "now that we've dealt with the zoning issues, septic issues are the next hurdle to get over."
For his part, Woodard cited what he saw as another problem — a lack of action by the county's municipalities to take steps to encourage more affordable housing. "With all due respect to the municipalities, we really need to push them hard [to make] compromises," he added. "They're reluctant to do so."
In a brief interview after her presentation, Brown – who has pitched her housing plan to local municipal officials — said some communities had taken positive steps, but then turned to those that needed to do more. To that end, she said, "I think we're really talking about Kill Devil Hills and Nags Head."